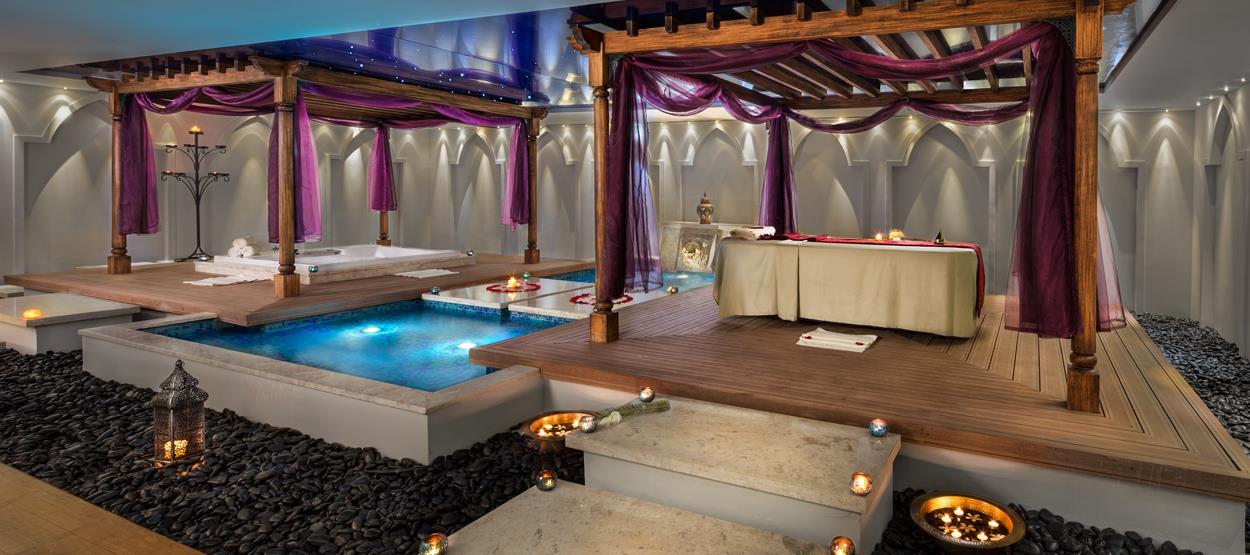 "Behind vast carved turquoise doors within the luxurious Jumeirah Zabeel Saray Hotel, lies the palatial Talise Ottoman Spa."
Winner of multiple awards. Talise Ottoman Spa is an experience like no other.
From the moment you arrive you will experience a spa sensory journey that will instantly, relax, de-stress, or uplift both your body and mind. With 42 treatment rooms, steam rooms, saunas, snow rooms and two thalassotherapy pools, you'll discover almost limitless ways to treat yourself
At the heart of this spa, built from marble and exquisitely decorated with dark woods, mosaics and murals, is a spectacular Turkish Hammam. The centuries-old tradition of hammam is based around a philosophy of community. It's the perfect place to come together, relax and experience true indulgence.
Opening Times: 9.00 – 21:30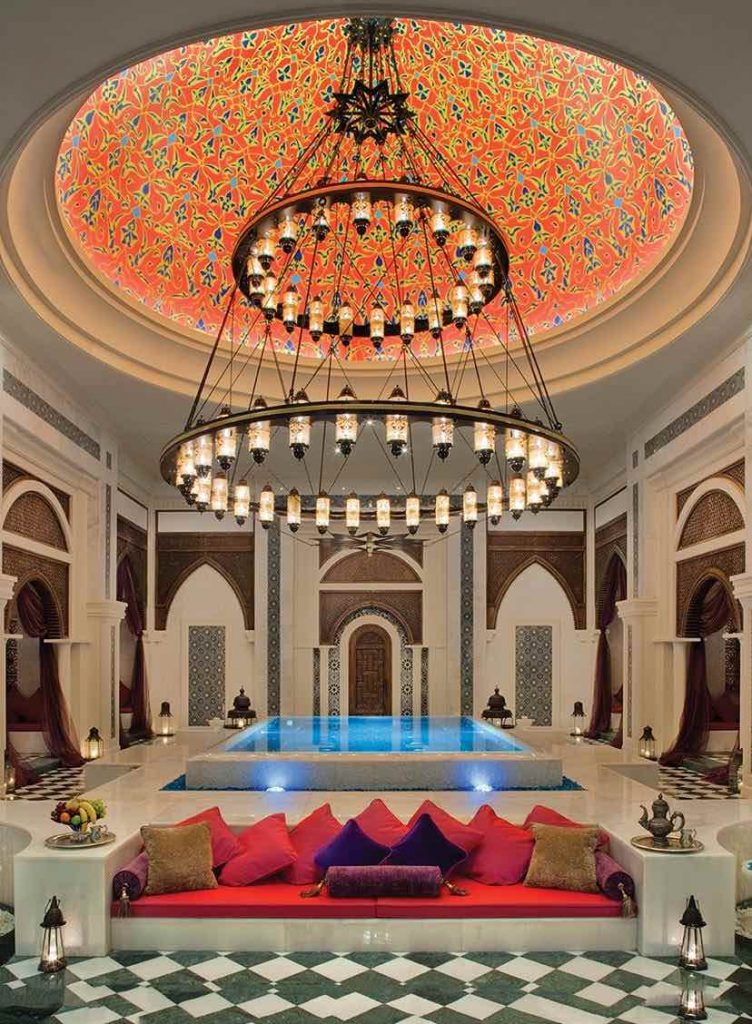 TRADITIONAL TURKISH (45 MINS) Begin this authentic body cleansing ceremony in the tranquil ambience of the hammam. Relax and unwind as the gentle heat softens your skin, preparing you for a body exfoliation with a 'kese' mitt on our heated stone bed, followed by a foam massage with hand made olive oil soap.
COFFEE PEELING (60 MINS) This is an innovative hammam treatment utilising Turkish coffee which visually refines and smoothes the skin, leaving it more firm and toned. Based on the traditional Hammam sequence of exfoliation and foam massage, the ritual finishes with a full body coffee peeling to awaken the senses, benefiting the skin and mind.
BLACK SOAP & CLAY (60 MINS) Drawing on the healing powers of the earth, this authentic Hammam sequence utilises the rich minerals found in black olive soap. Blended with eucalyptus, the experience begins as your skin is anointed with the rich black olive soap, followed by an all over body exfoliation using the "Kese" Mitt. The Treatment ends with gentle foam cleansing as a natural oriental mineral clay mask renews your face.
ARABIAN ROSE OR GOLD MASK HAMMAM (60 MINS) Relive the majestic customs of a traditional Turkish Hammam with this deeply cleansing indulgent experience. Begin your journey of self-discovery with a kese mitt exfoliation and olive soap cleansing. Drift away on ripples of endless bliss as you experience a purifying rose or gold body mask. Close your eyes and enjoy the nutrients from the mask that start to work their magic and revive your skin. You will be radiantly refreshed with delicate perfume of the Orient.
GREEN TEA REVIVAL (60 MINS) This is an innovative, refreshing Hammam treatment utilizing ice massage, leaving you feel more energized. Relax in the splendor of the Hammam as the heat and delicate aromas prepare you for the traditional kese mitt body polish and foam massage. This ritual finishes with hands, foot and scalp ice massage to awaken the senses, improve circulation benefiting the body and mind.
ROYAL OTTOMAN (60 MINS) Relax in the splendour of the hammam as the heat and delicate aromas prepare you for the traditional 'kese' mitt body polish and foam massage. Savour the warm glow from the marble as your hair is shampooed and your scalp is massaged, followed by a moisturising conditioner. Your body then is enveloped in a honey mask to revitalise your complexion.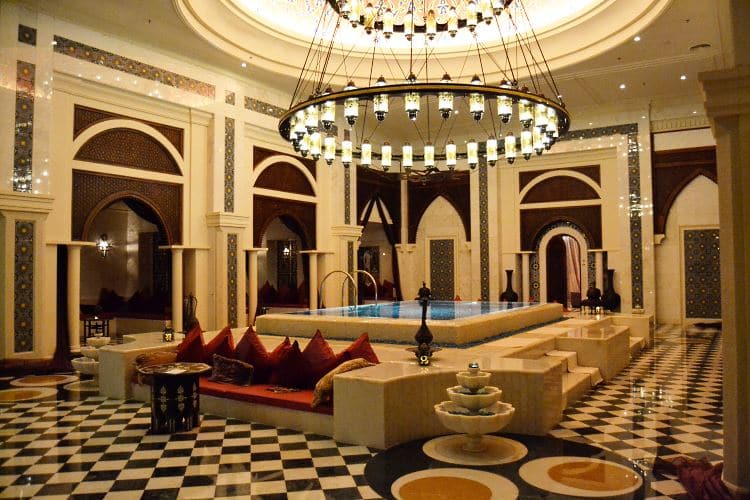 FOR BOOKING
To arrange an appointment, please contact: Tel: +971 4 453 0456 Fax: +971 4 453 0455 Email: JZStalise@jumeirah.com