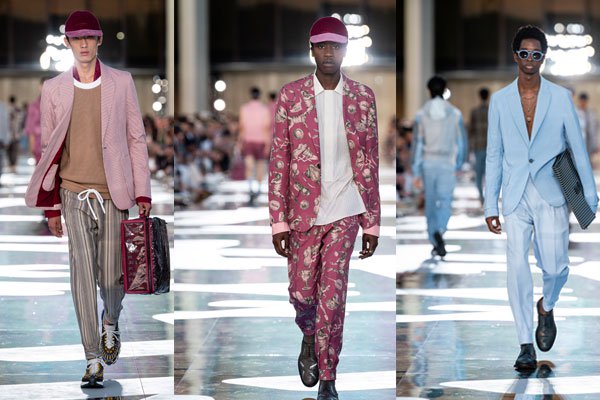 These three brands are shaping the conversation around menswear
From Florence to Milan, June saw a flurry of activity among the fashion fraternity. The biggest brands in menswear displayed their most rakish pieces that will likely be part of your wardrobe this time next year. We've rounded up three brands and reveal the business behind those spectacular looks.
Ermenegildo Zegna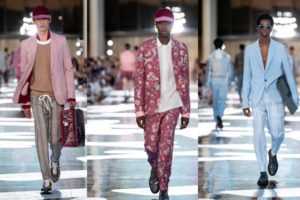 In terms of revenue, it's the largest
menswear brand in the world. That position of strength allows it a wide berth – creative and financial – to do as it pleases. In the case of this year's SS19 show in Milan, Zegna eschewed suits in favour of a more relaxed and streetwear-first collection on the runway.
No ordinary streetwear, of course. Think bombers in meshed leather and track pants with zippers.
When it did need to resort to the suit, it returned to the 'bomber suit' concept for which creative director Alessandro Sartori has written the rulebook: tailored jacket, bomber and a track pants with slack.
Guests were invited to the Oscar Niemeyer-designed Palazzo Mondadori, whose construction was initiated in the same year that Zegna made their first ready- to-wear suit – 1968.
The final look from the collection titled Weightlessness was a pink two-piece printed with emblems from the house of Zegna. Why? Because it can.
Dolce & Gabbana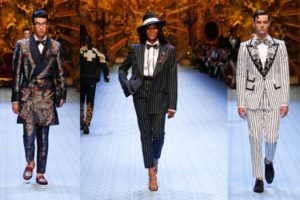 Dolce & Gabbana have been in the business for nearly 34 years. Long enough to become the internationally-recognised fashion powerhouse they are, but also long enough for Stefano and Domenico to feel the need to educate a few, and remind others, of the brand's core tenets.
D&G used their exhaustive 144- look show titled DNA Evolution to explore all 10 of their foundational categories and 40 oppositions from 'velvet vs brocade' to the quirkier 'pasta vs tomato'.
There was a multi-generational
line-up walking the new looks down the ramp. At the millennial Instagram-famous end of the spectrum, the young guns included Maharaja Padmanabh Singh and Elias Becker (Boris Becker's son).
The old guard included Monica Bellucci, who wore an androgynous black suit with massive pointed lapels, and the show-closer Naomi Campbell dressed in a gangster-style pinstriped suit and fedora.
The brand has stayed resolutely independent ever since its existence.
The duo is the sole creative bosses and decision makers at the Milanese brand – and it shows.
Prada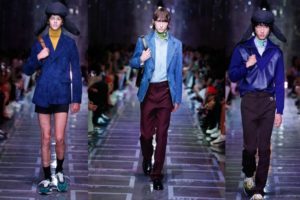 This year is shaping up to be
a good one for Prada. Its net
income for the first half rose
more than 10 per cent to
$123.4m – a feat spearheaded
by the husband-wife team of
Patrizio Bertelli and Miuccia
Prada, the granddaughter of the brand's founder Mario Prada.
Miuccia, who is also Prada's creative director, is taking the brand way out of its comfort zone in order to unshackle
its potential and reach those commercial targets. That means doing something that it hasn't done before. At the SS19 show, Prada sent its male models down the runway wearing very short shorts – not Thom Browne length of shorts, but in Miuccia's words like "miniskirts for men".
But you didn't have to be a fashion daredevil to pull off Prada's other looks, which included clean-cut and colourful single-vented blazers and rubber-sheened ruffle-fronted shirts.
Prada was big on accessories this year too – think trapper-style hats and bags (curiously, always slung only over the right shoulder). Miuccia, take a bow.