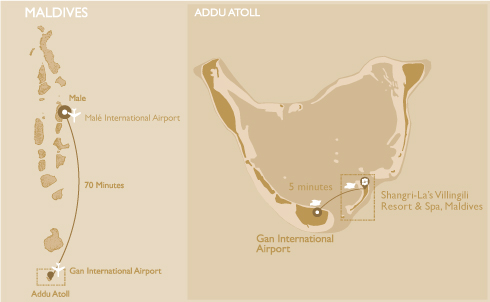 TREAT YOURSELF TO PARADISE WITH 
YOUR SHANGRI-LA STORY
Shangri-La's Villingili Resort & Spa is the definition of luxury, a place where all experiences are tailored to suit your passions.
Retreat in style in one of the private villas perched atop the emerald green jungle or strung along the turquoise shoreline. The luxury of space makes them the perfect haven for couples and families alike. Catering to your every desire, our Island Host will ensure that every experience at the resort is personal.
Delight in tropical refinement at its very best, with an uncompromising selection of on island dining destinations to choose from. Treat yourself to sumptuous gastronomic experiences at our 3 restaurants, or enjoy a custom-made Dine by Design experience at the outdoor location of your choice, be it a memorable lunch on the equator aboard our luxury yacht or a romantic dinner in the jungle.
Unforgettable experiences await in there extraordinarily beautiful grounds. Indulge in tranquility at CHI, The Spa, explore the luscious tropical forest, play a round at the only 9-hole golf course in the Maldives or embark on an ocean adventure through numerous water sports.
To enhance your experience on the island, they have moved there clocks on Villingili Island one hour ahead. You can enjoy an additional hour of daylight – the perfect chance to indulge with a sundowner at M lounge while listening to the beats of the DJ to set the mood for the evening.
Welcome to your elite private hideaway, where extraordinary adventures await.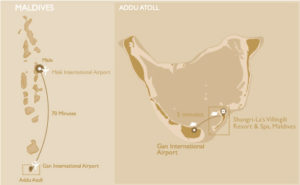 In a world of its own, Shangri-La's Villingili Resort & Spa is the only Maldivian resort located south of the equator, making it an exclusive destination for a retreat in style. In the heart of extraordinary physical beauty that only nature can create, Villingili's unique location allows visitors to experience an island unlike any other, with emerald green jungle, white-sand beaches and turquoise waters.

Malé International Airport is conveniently served by a large number of international and charter airlines, including British Airways, Condor, Austrian Airlines, Emirates Airlines, Etihad Airways, Qatar Airways, Aeroflot, Turkish Airlines, Singapore Airlines, Sri Lankan Airlines, Hong Kong Airlines, China Eastern Airlines, Air India, and Malaysian Airlines.
From Male International Airport you can conveniently fly to Gan International Airport, which is located just 5 minutes away from our resort by boat, on a domestic Maldivian Airlines flight. Alternatively, you can choose to fly to Colombo and take a direct flight from Colombo to Gan via Sri Lankan Airlines.
Phone: (960) 689 7888