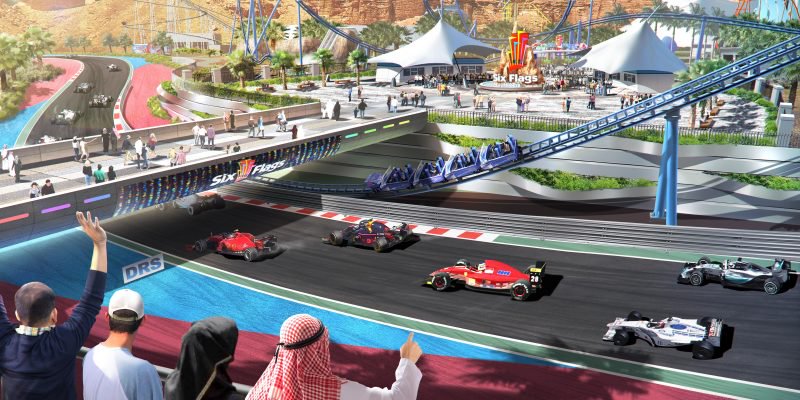 Six Flags Qiddiya is expected to open its doors in early 2023
The new Six Flags theme park coming up in Saudi Arabia will have the world's fastest, longest and tallest roller coaster, it was announced this week.
Six Flags Qiddiya, slated to open its doors in early 2023, will feature 28 attractions in total, including 12 roller coasters.
One of them, the Falcon's Flight ride, will be a record-breaking roller coaster inspired by the Arabian falcon.
Another thrill-ride, the Sirocco Tower, also aims to become the world's tallest drop-tower ride when it opens.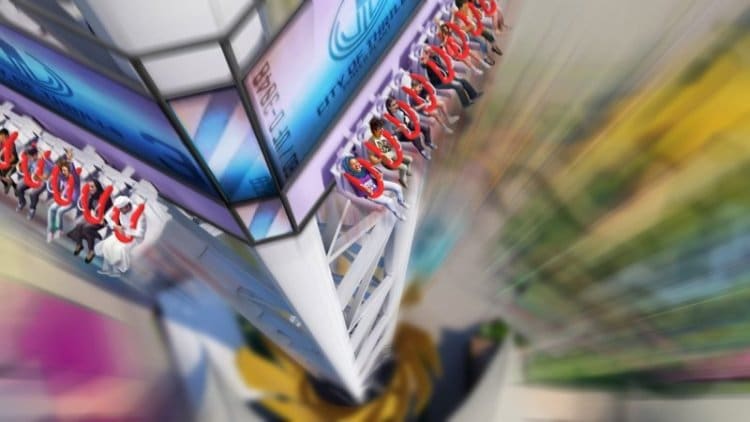 Covering an area of 79 acres, the Six Flags park features six themed areas in total.
The Citadel, the central hub of the park, will be covered by a canopy form inspired by traditional Bedouin tents. It will include shops, cafes and restaurants as well as an interactive show space throughout the day.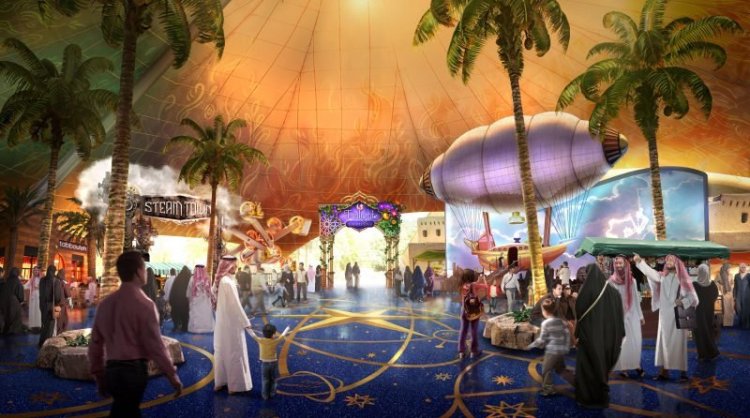 Designed with Arabic design motifs, the City of Thrills will include rides such as Falcon's Flight and Sirocco Tower.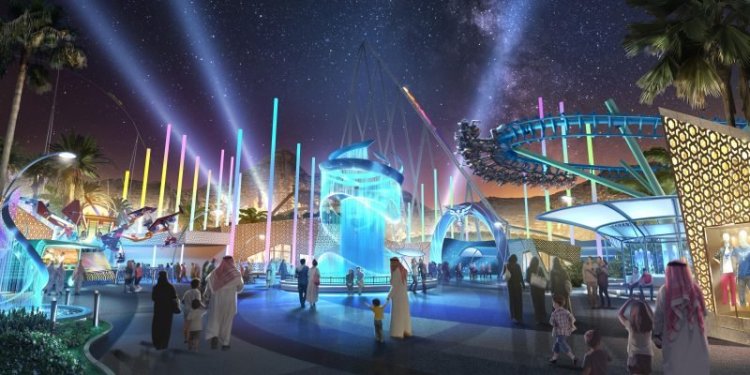 Discovery Springs will feature waterfalls, aqueducts and geysers, as well as exotic plants and trees. It will create the feel of a "dense rainforest in the middle of the desert". It will also include an interactive ride called the Sea Stallion, where riders are propelled over rivers, behind waterfalls and through trees along a custom-designed course, as they control the speed and acceleration of their serpent.
A 'rugged frontier town', Steam Town will be themed around mechanics with the Iron Rattler Mine Train serving as the signature ride. On the ride, the elements of a roller coaster are linked to a hydraulic lift which releases passengers into a freefall plunge through a narrow, steam-filled mineshaft.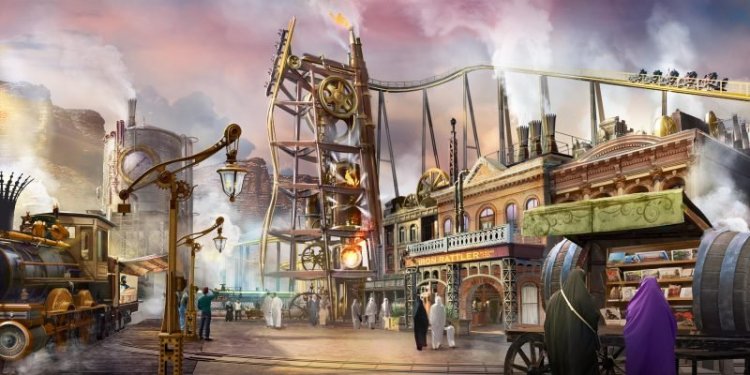 Other features include the Steam Town Falls Water Coaster which combines a roller coaster track with a splashing boat ride, a spinning mechanical ride called the Steel Stampede and a custom-themed climbing structure called the Treehouse Trek.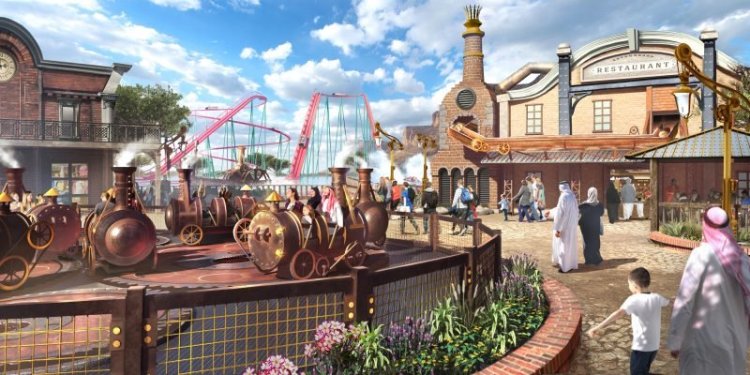 Twilight Gardens, filled with colorful flowers and friendly creatures, will cater to younger visitors and their families. Key features include the Twilight Express Coaster, which takes passengers through a garden; the Critter Chase, an interactive dark ride set in a 3D environment; and the Kaleidoscope hot air balloon ride.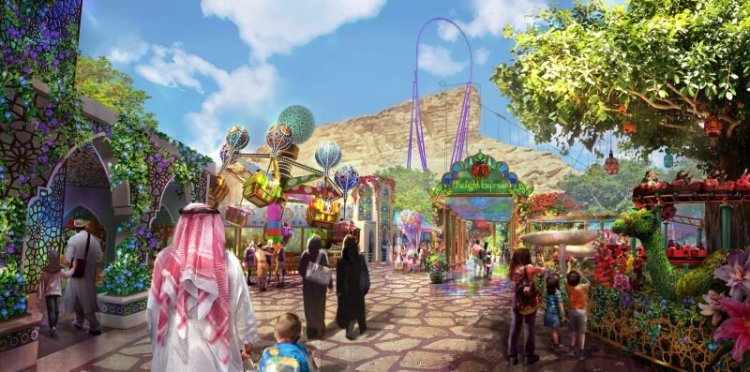 The fifth area is Valley of Fortune, which is set in the architectural ruins of old Arabian masonry. The signature attraction is Spitfire, a triple-launch coaster, which will take riders into a sky roll before an acrobatic stall and a dive back to the valley floor. Other attractions include Skywatch, where riders are lifted into the sky, the auto-themed Treasure Trail and the Aeromax, a family plane ride that swings and rotates freely over the park.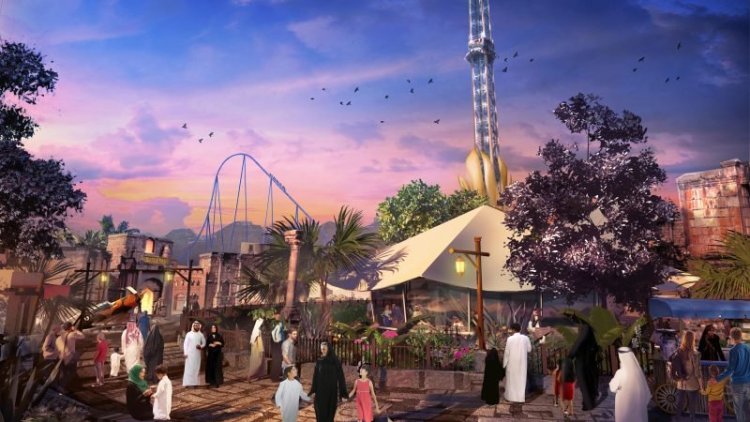 Grand Exposition will feature Six Flags Qiddiya's classic coaster Colossus, a gravity-driven wood-steel hybrid roller coaster which stretches over an 800-metre track. It will also feature the Gyrospin Pendulum, which swings riders to record heights, the Arabian Carousel, where Arabian horses march in a circular parade, the Expo Flyer swinging ride, and Automania, with bumper car attractions themed as London cabs.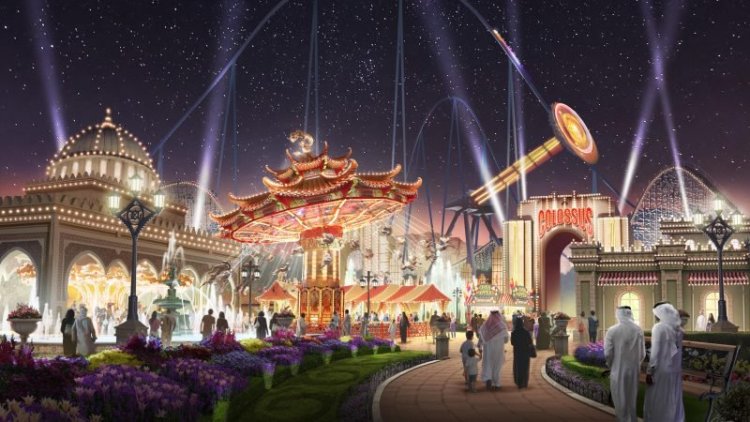 Coming up set to The will be one of the 28 attractions spread over six themed "lands" on a 32-hectare site at Qiddiya, 40km west of Riyadh. Construction has already begun, and the park is expected to open early in 2023.
Coming up 40km west of Riyadh, Qiddiya is a mega new development that aims to become the main hub of entertainment, sports and the arts in Saudi.
Six Flags Qiddiya will be one of the key entertainment features in Qiddiya's first phase when it opens in 2023.