Uncategorized
Saudi's Haramain rail project to add 8 new trips between Makkah and Madinah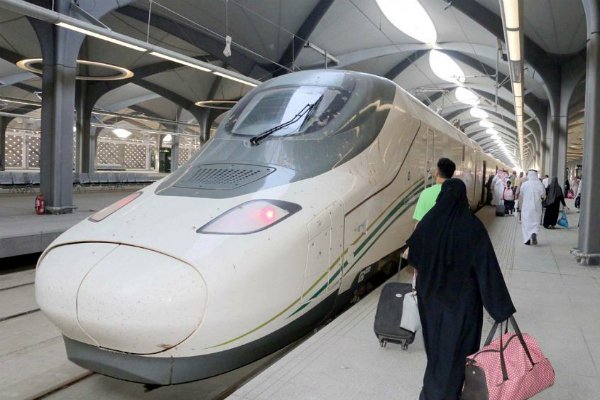 he high-speed rail line began operations in October last year
Saudi Arabia's Haramain high speed railway project is set to add eight new trips between Makkah and Madinah from next week.
Starting Wednesday, February 13, the trains will make 40 weekly trips every Wednesday, Thursday, Friday, Saturday and Sunday, local daily Saudi Gazette reported.
During Ramadan, there will be additional trips throughout the week to cater to demand, the report added.
The railway, which started services in October 2018, currently operates 32 weekly trips between Makkah and Madinah via Jeddah and King Abdullah Economic City of Rabigh.
The line transported more than 118,000 passengers through 310 trips from its launch on October 11 until the end of the year, according to local media reports.
The 450km Haramain line was originally due to open in 2012 but was hit by delays and cost increases. Trial runs of the project were completed in November 2017.
Each train includes 35 passenger cars with a capacity of 417 passengers on two-way trips between Makkah and Madinah.
The ticket rate for the journey between the two passenger stations in Jeddah and Makkah has been priced at SAR40 in the regular class and SAR50 in business class.
The trip between Makkah and Madinah costs SAR150 in regular class and SAR250 in business class.
The train travels at speeds of 300kmh and reduces journey times between Makkah and Jeddah to 21 minutes, Jeddah to King Abdulaziz Airport to 14 minutes, King Abdulaziz Airport to Rabigh to 36 minutes and Rabigh to Madinah to 61 minutes.
Travel between Makkah and Madinah takes less than two and a half hours.
The line has five stations — two terminus stations in Makkah and Madinah, and two central stations in Jeddah and Rabigh, and a fifth station at King Abdulaziz International Airport built by the General Authority of Civil Aviation.
All stations include several facilities including business class lounges, a public transport centre, parking lots, civil defense stations, mosques, and commercial spaces catering to traveller needs.
Later stages could see the line linked to Jeddah Islamic Port and Makkah's metro.
The train line is eventually intended to handle 60 million passengers per year.