Regional telecoms companies have been regularly conducting 5G trials
Saudi Telecom Company (STC) and Huawei have completed the first trial of indoor 5G @3.5GHz in the MENA region, the companies announced on Tuesday.
This is the second indoor 5G test in the world.
STC launched the 5G test via Huawei's 5G product which supports both 5G NR (New Radio) and 4G LTE on February 20.
The trial included verification of 5G technologies and air interface DL peak throughput.
During the testing in Dammam, STC used 100MHz in the 3.5GHz band on the 5G network, and achieved a peak user downlink throughput of 1.3 Gbps.
The 5G indoor solution is aimed at providing users with a faster and better user experience, as well as better access to services such as 4K/8K video streaming and AR/VR video game applications.
Regional telecoms companies have been regularly conducting 5G trials in a bid to implement the new network.
Earlier this month, UAE telecoms operator du announced that it has conducted the first-ever live 5G data call on its production 5G network while rolling-out 700 5G sites across the country.
The company said it also launched a native cloud unified 5G core network solution with capability to accommodate 5G NSA and 5G standalone (SA) evolutions.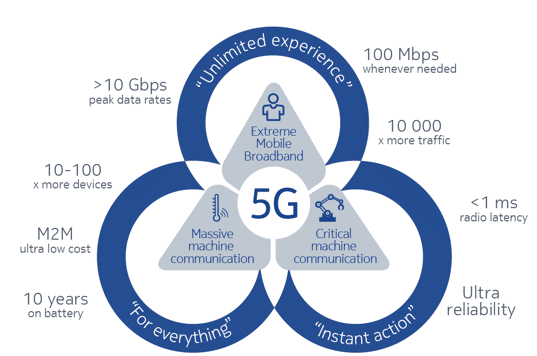 The 5G NSA deployment will provide a wider bandwidth and lower latencies to support enhanced mobile broadband services such as virtual reality, augmented reality and 5G cloud gaming.
Last week, Etisalat also said it had selected Ericsson to deploy a 5G radio network in the UAE.
The network will become operational in Q1 2019, a statement said.
A report by Ericsson found that 5G is expected to reach 30 million subscriptions in the Middle East and Africa (MEA) by the end of 2024, representing 2 per cent of total mobile subscriptions.
This will make 5G the fastest generation of cellular technology to be rolled out on a global scale, according to the new MEA edition of the Ericsson Mobility Report.
Key drivers for 5G deployment include increased network capacity, lower cost per gigabyte and new use case requirements, a statement said.
The majority of the 5G subscriptions in the MEA are expected to come markets like Saudi Arabia, UAE and Qatar while in Africa, considerable momentum is building up in South Africa.
From a mobile data traffic point of view, the region is globally the highest with nine times growth forecast (1.8 to 15.4 EB/month from 2018 to 2024) and mobile broadband subscriptions to double (860 to 1,630 million from 2018 to 2024).
"The MEA region's telecom market is characterised by increasing uptake of LTE and there is a high usage of apps. Therefore, significant growth is expected in data consumption together with large mobile broadband subscription addition," the report added.