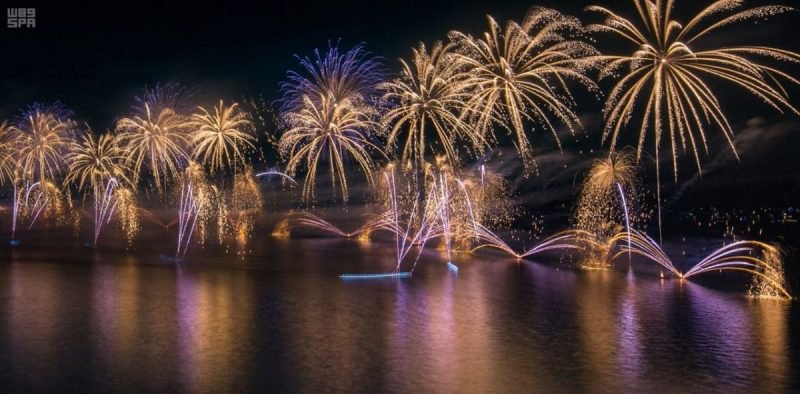 The Jeddah Season festival runs from June 8 until July 18
Saudi Arabia will offer e-visas to visitors who buy tickets online for the 41-day 'Sea and Culture' festival being held in Jeddah.
Organisers have said the e-visas will be issued in "three minutes".
Once visitors buy a ticket, they can get the e-visa by logging on to the Sharek e-Visa website and following the instructions.
"Making it quick and easy to obtain an entry visa will encourage more tourists to discover the beauty of Jeddah," said Raed Abuzinada, general supervisor of the Jeddah Season.
The Jeddah Season festival, which runs from June 8 until July 18, is part of the kingdom's efforts to boost tourism into the country.
The programme features concerts, street music performances and parades, visual arts displays, fireworks, lights and laser shows, and a glow garden.
Festivities will also include dance performances as well as Michelin-starred restaurants and pop-up eateries at the Jeddah Waterfront.
Overall, the festival will feature 150 local and international activities and events, and it is expected to attract nearly four million visitors from within and outside the kingdom.
Most of the events will be held across five venues – King Abdullah Sports City, Obhur, Historic Jeddah (Al-Balad), Al-Hamra Corniche and Jeddah Waterfront.
The festival is also anticipated to provide some 20,000 seasonal jobs and volunteering opportunities, according to the organisers.
Saudi has been focussing on boosting its tourism sector as part of its ambitious Vision 2030 strategy to diversify its economy away from oil.
As part of the strategy, the kingdom aims to attract 1.5 million tourists by 2020 and increase the revenue generated from tourism to 18 per cent in the next 14 years. The number of tourists visiting the kingdom stands at around 200,000.
In 2017, the kingdom also approved plans to start issuing tourist visas last year under a wider strategy to help diversify the economy.
The kingdom has also unveiled mega tourism developments such as the 30,000-square-kilometre Red Sea project, NEOM as well as the Al Ula project.