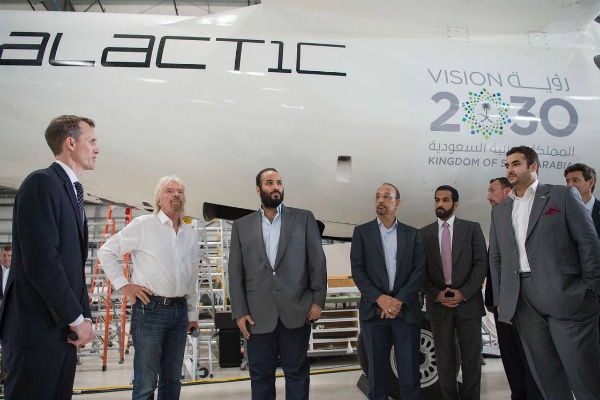 The crown prince's Public Investment Fund is a backer of Virgin Galactic
Saudi Arabia's crown prince has been welcomed by British billionaire Richard Branson at Virgin Galactic's Mojave Air and Space Port in California as part of his US tour.
The meeting, photographed by state media, follows a $1bn commitment from the kingdom's Public Investment Fund (PIF) to invest in Virgin Galactic, and sister companies The Spaceship Company and Virgin Orbit, announced in October.
Mohammed bin Salman was shown next to a Virgin spacecraft emblazoned with the logo of the Saudi reform agenda he has spearheaded, Vision 2030.
Saudi Press Agency said he was briefed on the progress of Virgin Galactic including plans for its first commercial spacecraft service and new aircraft fuel compartments.
The two sides reviewed the existing investment partnership and new cooperation in space services, research manufacturing and training for Saudi youths under a goal of making the kingdom a producer rather than consumer of technology.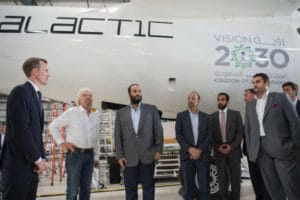 Branson also introduced the heir to the Saudi throne to the high-speed hyperloop transportation concept, which involves the use of pressurised tubes to move human and freight cargo at speeds of up to 1,100kmh.
The billionaire's Virgin Group entered an investment and strategic partnership with one of the companies aiming to produce the first working prototype of the technology, Hyperloop One, last year and he now sits on its board.
The mention could be a precursor to PIF investment into Hyperloop One, which is also backed by companies including Dubai ports operator DP World and Russia's Caspian Venture Capital.
It is currently conducting feasibility studies in world cities including Dubai.
Last year, Branson visited Saudi Arabia and became the first international investor to sign up for an ambitious Red Sea island project being led by the PIF.
The kingdom plans to transform a 30,000 square kilometre stretch of islands, beaches and other attractions on the Red Sea into a tourist attraction with more than 50 island resorts.
Before his stopover in Los Angeles, the crown prince was in Seattle where he met with the world's two richest men – Amazon founder Jeff Bezos and Microsoft founder Bill Gates.
In other stops on his tour over the last two weeks, Mohammed bin Salman met US President Donald Trump at the White House and oversaw the signing of more than $400bn of US/Saudi deals.