Sport
Rublev wins Qatar ExxonMobil Open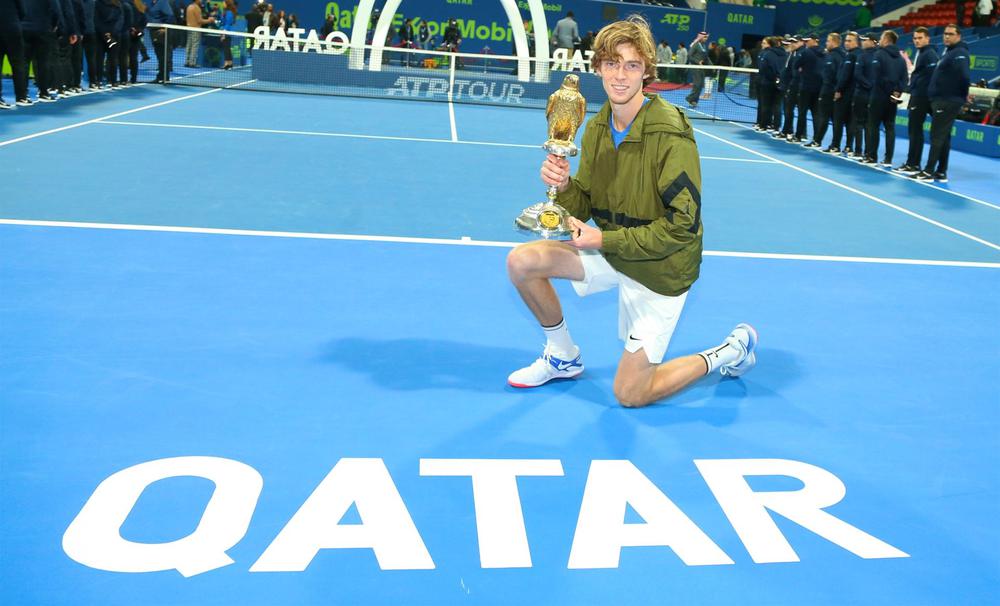 Russia's rising star Andrey Rublev last night produced a disciplined performance against erratic French qualifier Corentin Moutet to win the Qatar ExxonMobil Open title for the first time in three years.
Rublev, tipped by tennis icon Roger Federer to dominate in 2020, beat error-prone Moutet 6-2, 7-6 (3) in 88 minutes on Center Court at the Khalifa International Tennis and Squash Complex.
It was Rublev's third career title and his 9th win in 11 matches in Doha.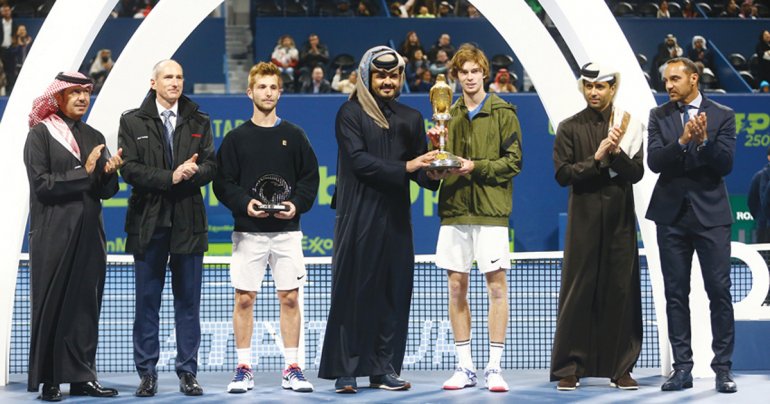 The Moscow-based 22-year-old fired three aces against 20-year old Moutet as yesterday's clash saw youngest contenders competing for the title in the tournament's 28-year history.
When the rankings are released tomorrow, Rublev will break into the world top-20 for the first time in his young career, courtesy to the Doha triumph.
A losing finalist against Gael Monfils in 2018, Rublev arrived for the season's first ATP Tour event as the second seed behind Stan Wawrinka of Switzerland.
Rublev, who now has a 3-2 win record in five finals, was thrilled with his performance in Doha throughout the week.
"I have no words to describe my feelings. I am always really happy to play here. I enjoy playing in Doha. I enjoy my time here. And for me to finally win a title here is truly amazing," Rublev said.
"I hope I can have the same level in the coming weeks. Let's see what happens," the tall right-hander added.
"There is still much work to be done. I have worked hard to get here. I think there's plenty of work to do. I think I have room to improve," Rublev said when reminded he will break into the top-20 tomorrow.
"I am always happy to be here. It is an amazing week for me," Rublev said.
Rublev hit the ground running when he raced to a 3-0 lead by breaking Moutet in the second game of the first set. However, the Frenchman saved three break points in game four to reduce the deficit at 3-1.
But Rublev remained focused to hold his serves and quickly grabbed the chance to clinch the first set when be broke the Frenchman in game 8, who returned wild on set point.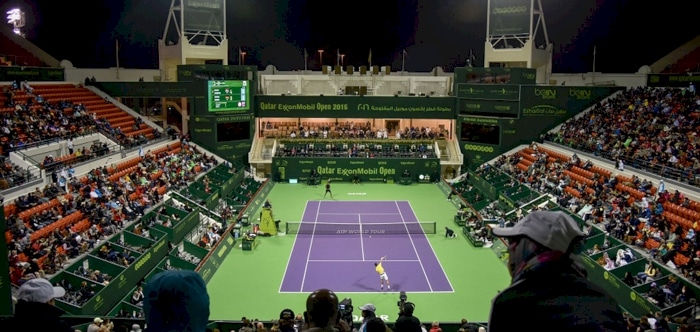 The first set lasted only 31 minutes as Rublev won 82 percent of points on his first serve.
Both players sought medical break before the start of the second set.
Once again Rublev dominated Moutet, who lost his serve with four unforced errors in game 2.
Rublev raced to a 4-2 lead but the Frenchman broke Rublev in Game 7 as the Russian smashed a volley into the net on break point.
Both players held their serve as the set was pushed into a tiebreaker.
In the tiebreaker, Rublev jumped to a 4-0 lead when Moutet smashed three returns into the net.
A couple of long returns gave two easy points to Moutet but Rublev celebrated with a roar when on match point the young Frenchman hit an unforced error into the net.
Rublev won $227,930 for winning the title whereas Moutet got richer by $126,160.
Moutet said he was proud of the way he played in Doha.
"The way I controlled my mind during the week, maybe not so much today, but the other day was really good. I did a lot of improvement on the mental side of my game," Moutet said.
"And, of course, I did a lot of work to be able to do that this week. But I think I need to continue to work hard because, as I said, today wasn't good enough. So there is still a long way and a lot of work to do. But I'm happy a little bit," he added with a smile.
"I think I did some good stuff, but it's still not enough. It will never be enough, I think. I always have to work more and more because all the other guys are working as well," Moutet said.
"I want to improve my level — because I'm still not on top. I'm really far away from the top at the moment. So I think I still need to improve my game. And physically and in my mind, I still need to work hard on it to be able to compete with all the top guys in the future," he added.