"Decadence is on the menu at this innovative restaurant in the iconic Atlantis The Palm, Dubai"
ssiano serves over 40kg of seafood every week, while presenting 65,000 fish, including sharks, snapper, hammour, lionfish and anemone, in a mammoth tank – but they're not for eating. Known as the Ambassador Lagoon, this tank forms the restaurant's feature wall (hence its 'Underwater Restaurant' tagline).
CLICK THROUGH THE GALLERY ABOVE TO SEE SOME SIGNATURE DISHES 
As otherworldly stingrays glide by like futuristic spaceships, diners tuck into premium platters costing AED 950, loaded with lobster, oysters, crab, prawns and freshly grilled market fish. Another popular choice are the 50g tins of Beluga caviar, the most expensive variety in the world, costing AED 4,700 a pop. One evening, a gentleman ran up AED 50,000 bill on a table of two – he proposed at the end of it.
As with so many restaurants, the person in charge of lighting has made the mistake of thinking dim equals romantic, when it is in fact it's just gloomy; romance is an abundance fairy lights and the warm glow of candles, not the inability to see the detail of the food before you. Ossiano's air-conditioning could be a little less frosty, too.
These inconveniences were bearable in light of the culinary thrills we experienced. Brave but deeply successful combinations, such as Alaskan king crab with mandarin, mascarpone yuzu cream and vanilla pickled carrots, entertained the palate immensely. The poached blue lobster had so many elements it may have been better served in stages, with the lobster cappuccino and soufflé coming before the lobster meat under a squid ink crisp accompanied by tempura claws – but we would order this dish time and again regardless.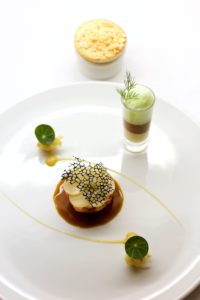 The staff are refreshingly well informed and passionate about the menu; perhaps a little too passionate if romance is your goal over dinner. If that's the case, discreetly let your server know that you'd like as much alone time with your guest as possible.
Finally, be sure to pay a visit to the bathrooms. The exuberant decadence extends to the facilities, and if there were a Condé Nast Traveller award for the best bathroom in Dubai, this place would scoop it.
A sample Ossiano Experience Menu
Course one:
Kelly oyster #2
Cucumber and ginger granité, sour cream
Course 2:
Wagyu beef tartare
Mustard, avocado, french condiments
Or
Alaskan king crab
Mandarin, mascarpone yuzu cream
Vanilla pickled carrots
Or
Burratina pugliese
Heirloom tomatoes, ponzu, coriander
Course three:
Foie gras tart
Kumquat 'textures', soy and orange
Or
Yellowfin tuna 'ceviche'
Bell pepper & raspberry sorbet, red chilli,
Pomegranate
Or
Octopus carpaccio
Squid ink, celery, chives
Course four:
Crispy veal sweet bread
Tonka & coffee, parsnip, roasted pear
Or
Lobster velouté
Artichoke, sun dried tomatoes, dill
Or
North Sea langoustine
Leek and smoked goose agnoletti,
Smoked onion emulsion, buckwheat
Course five:
Atlantic pollack
Pommes soufflées, kimchi beurre blanc, wild mushroom
Or
Ossiano beef sirloin Rossini
Cheeks and jus croquette, celeriac, tonkatsu & foie gras
Or
Caramelised black cod
Homemade linguine, almond foam, zucchini
Or
Hokkaido scallops
Chorizo, mustard ice cream, vichyssoise
Course six:
'Mons' cheese
Course seven:
A choice of desserts made by the pastry chef
Petits fours
Tea or coffee
A la carte menu available, four-course set menu AED 670 (with grape pairing AED 970), five-course set menu AED 785 (with grape pairing AED 1,205), seven-course set menu AED 890 (with grape pairing AED 1,390); open 6.30pm to 11.30pm daily, and Saturday 1pm to 3pm for the three-course Saturday Underwater Lunch (AED 350), all ages welcome; Ossiano, Atlantis the Palm, Dubai, UAE, 00971 04 426 2626, atlantisthepalm.com