Cars
Revealed: Five supercars that cost more than Dhs10m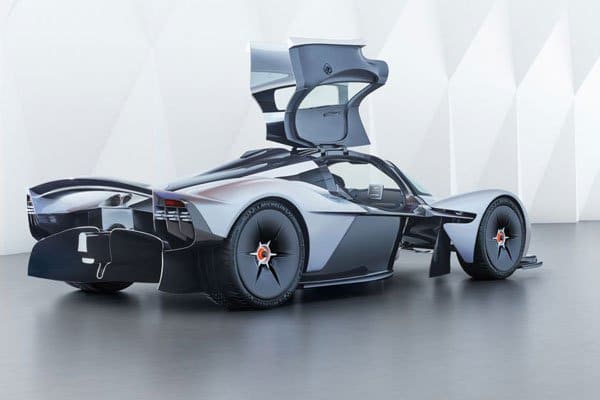 From Aston Martin, W Motors and Lamborghini to Bugatti and Ferrari, these are some of the world's most expensive cars
Last week we showed you the all-new world's most expensive car – the $17.5m Pagani Zonda HP Barchetta.
The club of hyper-expensive cars is expanding, as is evident from the roundup below of five cars that cost more than a jaw-slacking Dhs10m.
Aston Martin Valkyrie: Dhs11.7m
Ninety-nine of these mega machines will be built and, expectedly, they're all sold out already. The car is being developed in association with the Adrian Newey-led Red Bull Racing F1 team so expect those track-winning combination of mechanics and aerodynamics to come into play in this road-car.
Deliveries of the Valkyrie are expected to begin towards the end of this year. What we know so far about it is that it will have a 6.5-litre V12 engine assisted by a hybrid battery system that is speculated to collectively generate around 1,000hp. The engineers are working at reducing the overall weight of the car to 1,000 kgs. With a 1:1 power-to-weight ratio, strap a pair of wings to it and watch it lift-off.
Lamborghini Veneno Roadster: Dhs16.3m
Five years ago, when Lamborghini debuted this supercar to celebrate its 50th anniversary only five units were built, each priced at Dhs16.3 million. Of these five, one was used for testing and the other was reserved for Lamborghini itself, leaving just three of them up for grabs.
Last year, one of those three was reportedly up for sale by its owner for a whopping Dhs34.9 million, more than double the initial asking price of the car. The 6.4-litre V12 Veneno Roadster produces 690Nm of torque and 740hp of power. A lethal combination that results in a top speed of 355kph – it explains why someone is prepared to pay a fortune for this heirloom supercar.
Bugatti Chiron Sport: Dhs12.1m
At the 2018 Geneva Motor Show, Bugatti unveiled this new Sport version of its seminal Chiron hypercar which was launched two years ago. The new Chiron Sport has the same engine as the regular Chiron – a quad-turbo, 8-litre W16 engine that generates 1,479 hp and 1,599Nm of torque (it's tough to ace those figures).
But the gamechanger here is Bugatti's ability to strip the car of every last gram of excess weight. Those measures include the slightest details like the windshield wipers, which for the first time ever in a car, are now made entirely out of carbon fibre and are 1.4 kilos lighter than the one you'd find on the regular Chiron. Further justifying that Sport tag is a new stiffer suspension and a revised steering setup to make sure that it's always in attack mode – just like a Bugatti Chiron Sport needs to be permanently driven.
Ferrari LaFerrari Aperta: Dhs 12.8m (estimated)
No one outside of the 200 very lucky customers who got their hands on the LaFerrari Aperta supercar which made its debut in 2016 knows its exact price. But informed speculation pegs that at around Dhs12.8 million. Interestingly, some of those owners are now reportedly reselling their cars for up to Dhs36.7 million.
Innovation and learnings from the Ferrari F1 team have made their way into this car. That means the 6.3-litre V12 Aperta can hit acceleration rates of a 0-200kph in just 7 seconds and can achieve a top speed of over 350kph. It's well worth breaking the bank for this one.
W Motors Lykan HyperSport: Dhs 12.4m
The six-year-old Dubai-headquartered W Motors is the Middle East's first developer of supercars. This Lykan Hypersport, billed as the world's first Arab supercar, was limited to seven units. Each LED headlight on it is encrusted with 220 diamonds and the gear knob is made from sculpted crystal. To add a bit of further glamour, Franck Muller designed a special watch which was presented to each customer of the Lykan HyperSport.
The 3.7-litre flat-six engine in the HyperSport produces 780hp of power and propels it from o-100kph in just 2.8 seconds. It will keep going until it hits its top speed of 395kph. The party piece of this car has to be the 9-inch holographic display in the interiors which the car's occupants can use to control the infotainment system. The future is here.