But how will it compare to the iconic dubai fountain
If you're a big fan of the splashy spectacle that is The Dubai Fountain, we've got good news for you. Dubai is getting another dancing fountain, which will be located at the new Palm Jumeirah destination, The Pointe.
Developer Nakheel has signed a contract worth Dhs66 million for the new choreographed fountain, and has hired one of China's largest fountain specialists, Beijing Water Design, to create the attraction.
The fountain will cover a 12,000 square metre area of water at the tip of the island, across the bay from Atlantis The Palm.
Nakheel chairman Ali Rashid Lootah said: "Today's signing is a major milestone for The Pointe, as it means work on its centrepiece – the fountain – is now underway, and we are one step closer to delivering this eagerly-anticipated destination."
According to Nakheel, the dancing waters of the computerized fountain will "delight and entertain" visitors every evening.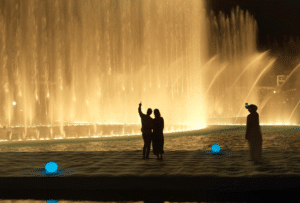 It will face some serious competition though – The Dubai Fountain in Downtown Dubai is the world's largest choreographed fountain system, designed by the same company behind the famous Bellagio Fountains in Las Vegas.
The fountain performs to a range of songs, from Arabic classics to Michael Jackson, and when operational, it has over 22,000 gallons of water in the air at any given moment. It's one of Dubai's ultimate must-sees.
While we don't know exactly when the rival dancing fountain will be complete, The Pointe is set to open later this year.
The destination will be home to around 70 restaurants and shops, as well as a picturesque 1.5-kilometre promenade. It will have its own Palm Monorail station, and there are also plans for boat access from The Palm's hotels and resorts.