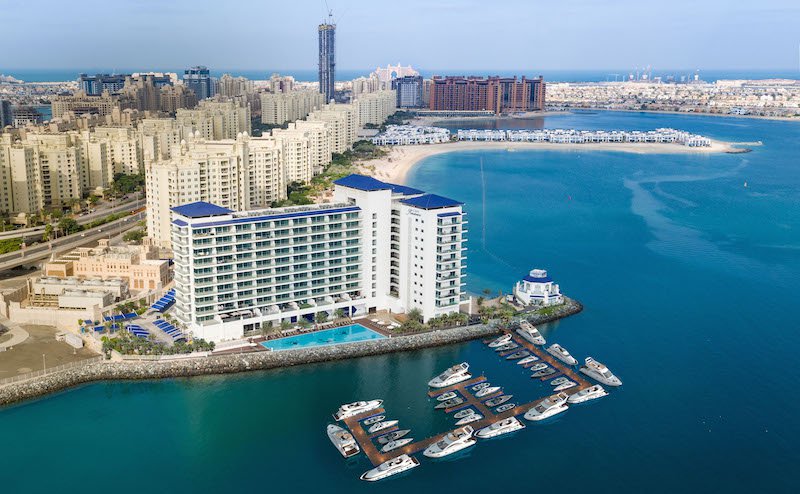 The two new marinas will accommodate a total of 44 boats and yachts up to 30 metres long
Dubai developer Nakheel is investing Dhs15m ($4m) to increase boat mooring capacity on its Palm Jumeirah development.
Two new marinas are being added to the island, bringing the total berths to 600.
The new marinas will be located at Nakheel's Azure Residences waterfront apartment and restaurant complex on the island's eastern trunk, and at The Pointe, an upcoming new seafront mall.
Nakheel has appointed Majestic Marine Engineering to build the new facilities, with Applied Technology & Management the appointed consultants, a statement said.
The marinas will accommodate a total of 44 boats and yachts up to 30 metres long, and are due for completion this year.
Nakheel already operates two marinas on the island, at Palm Views East and West, which are currently at full capacity with 556 moorings.
The developer is also building six marinas, at a cost of Dhs165m, at its new waterfront master development, Deira Islands. Between them, they will accommodate 614 boats and yachts up to 60 metres long.
The contract was awarded to UAE-based APCC Piling and Contracting in October last year, with phased delivery over two years, Nakheel said at the time.
The developer has invested Dhs8.8bn in infrastructure and construction contracts at Deira Islands so far, and recently announced a contract for nearly Dhs450m to build a 12-lane bridge connecting the islands to the Dubai mainland.
A 15.3 square kilometre waterfront city, Deira Islands will add 40km, including 21km of beach, to Dubai's coastline and feature retail, tourism, residential and leisure projects.
The major retail projects include Deira Mall and Deira Islands Night Souk, both of which are currently under construction by Nakheel.
When ready, the development is expected to have a population of 250,000 and to create 80,000 jobs.