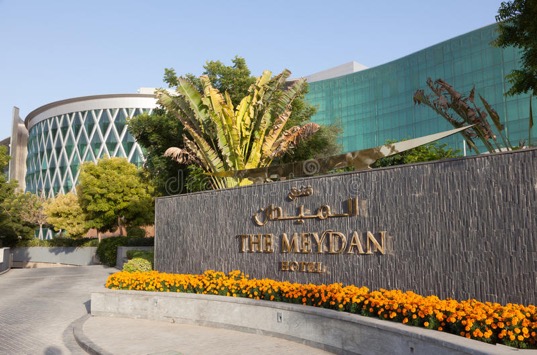 The Meydan Hotel at Dubai racecourse has a great range of special offers right now. Enjoy a break at this great destination with so much to do including golf, racing, infinity pool and a whole lot more. Find out what it's all about.
4 Special Offers at great prices, with lots more on their website!
See below for the details but you will be hard pressed to find a better short break deal anywhere.
Loads to do – golf, racing, racetrack tours, sports bar, gym, infinity pool + spa
The active ones can take themselves off to do stuff while those who prefer a more leisurely approach are very well looked after.
The Meydan is one of our favourite hotels, not just for the activity options but because it's simply a lovely hotel to stay in. Big rooms, a truly luxurious feel, really top food and a great range of beer and other drinks in the sports bar.
Golf – Choose to play 9 or 18 holes, or simply bash a bucket or three of balls on the practice range.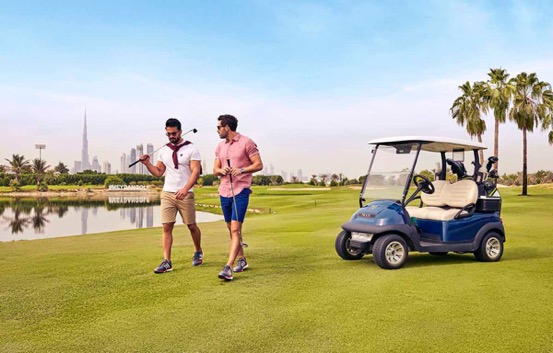 Racing – The season (Oct-Apr) is in full swing right now with plenty of top class action right on your doorstep, whether you choose to visit the track or simply watch on from your room or the rooftop lounge.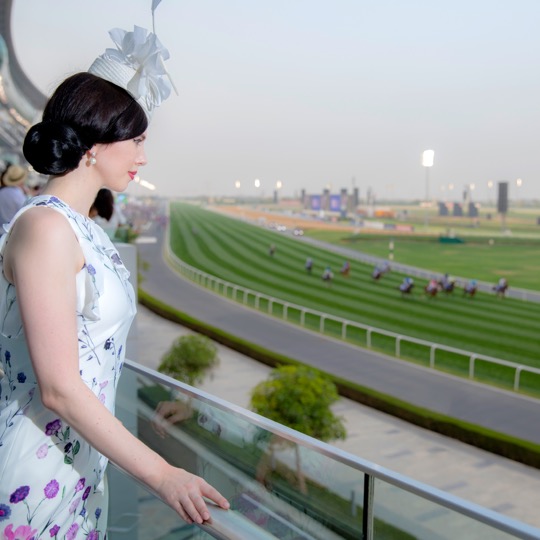 Racetrack tours – See behind the scenes and beneath the grandstand of Meydan racecourse. Watch morning gallops and find out what goes where at a busy and successful racetrack.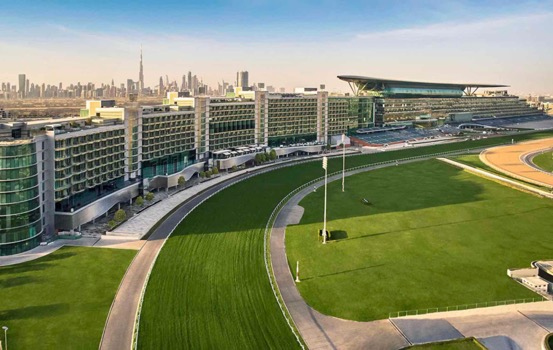 Qube Sports bar – Bring the family for afternoon bar snacks and read the paper, play bar games like pool and darts, or take your seat to watch worldwide events on any of the 16 big screens. There's something for everyone. Probably the best range of beverages in Dubai too.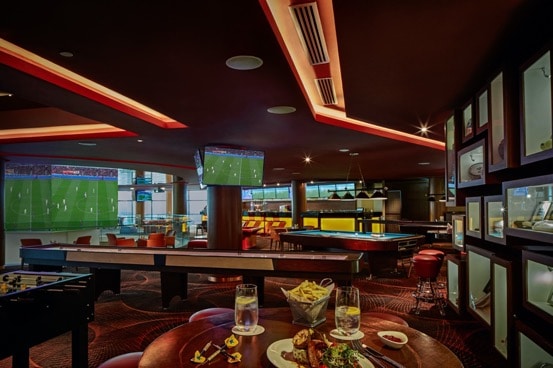 Infinity pool – You have not experienced an infinity pool until you have floated with a view of Dubai's skyline and the green sward of the racetrack beneath your eyes. It is possibly one of the most relaxing things you will ever do. The kids' pool and its lifeguards are right beside it.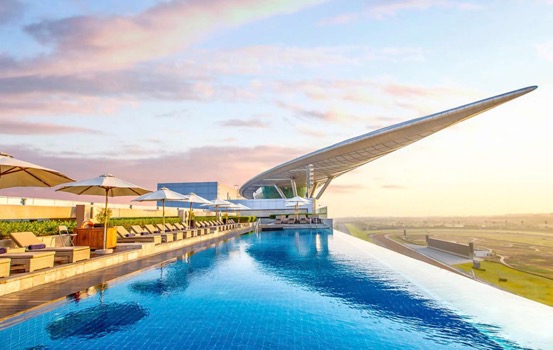 Wellness treatments – Proper pampering on the 2nd floor with a choice of signature massages, facials, and a range of body treatments. Lady therapists only.
Gym – A very well-equipped facility open 7am to 11pm with lockers and changing rooms. Personal trainers available for customised workouts.
Dining, of course, with restaurants including a steakhouse, Indian & Chinese, international cuisine, and bar food in the sports bar. Al fresco options available.
The offers – with lots more available
Offer #1 – Stay 4 nights, pay for 3. Includes breakfast and kids under 12 stay for free. From AED 337.
Offer #2 – B&B from AED 449, including pool access and breakfast.
Offer #3 – B&B Staycation with pool delights and gym access, plus free pizza and beverages by the pool with kids' treats. From AED 549.
Offer #4 – The Romantic One: breakfast, a bottle of grape paired with chocolate-coated strawberries, rose petals and the works! From AED 599.
Find out more
See these and more really good deals at the Meydan's O'Fest page https://themeydanhotel.com/offers
For reservations
Phone: +97143813231