Cars
Mansory Unveils Stallone Ferrari 812 GTS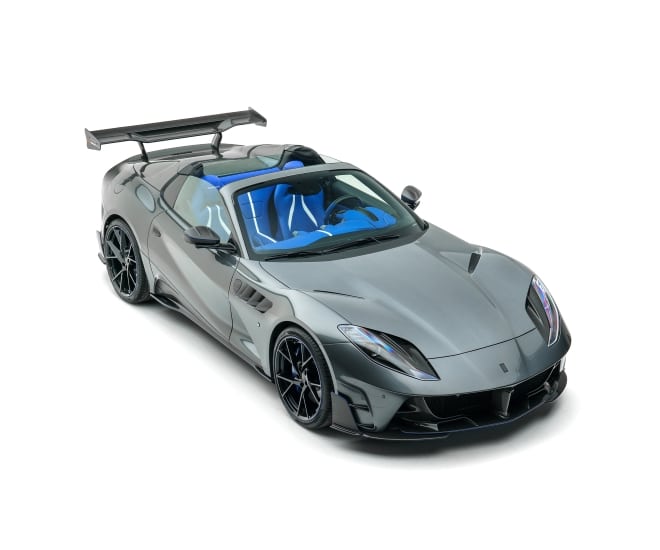 Known for applying their outlandish style to already exotic automobiles, Masonry has done it once again with their latest take on the Ferrari 812 GTS.
First of all, it would be apt to point out that this car has no connection to Sylvester Stallone. For those that were hoping for some collaboration between the actor and the German car modification firm, we're sorry to disappoint. 
True to their signature design, the Mansory Stallone GTS is not for the faint of heart, looking for an understated car. From the time you lay eyes on it.
Its exterior isn't the only thing that was tweaked by Mansory. This GTS has a tuned V12 engine and new exhaust system pushing its output beyond that of a stock Ferrari 812 GTS.
Aggressive Elegance
For those already familiar with the standard 812 GTS, the first thing that stands out about the Mansory Stallone GTs is how angular it is. Its front end is much sharper, with new bumpers and a central divide in the lower grille similar to that of the LaFerrari.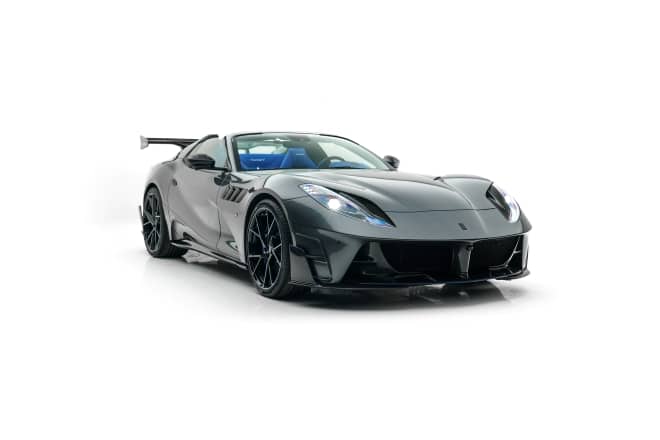 The Stallone GTS has a set of 21 X 9.5-inch and 22 X 12-inch front and rear wheels finished in black, bringing its chassis closer to the ground and making look like a hunkering apocalyptic machine. Redesigned aerodynamic wing mirrors further enhance this intimidating appearance.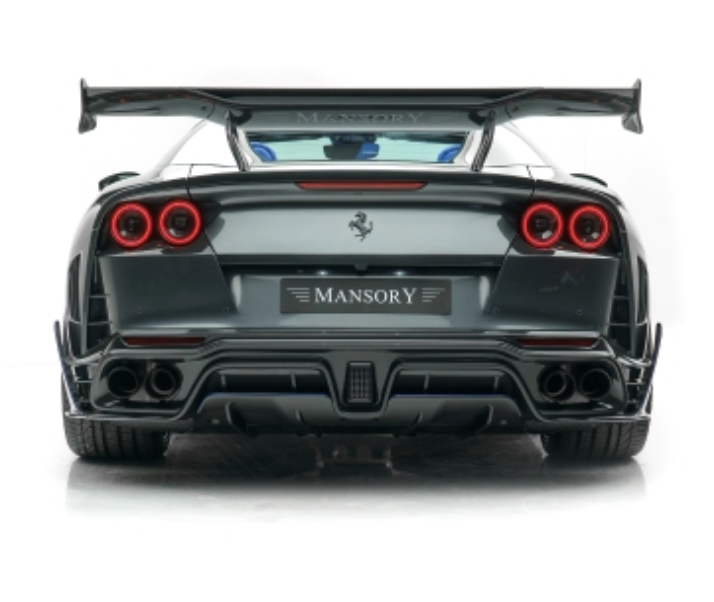 Moving to the rear of the car, the huge carbon-fibre wing is impossible to miss. The new rear diffuser, complete with carbon fibre elements complement the rear wing and nicely wraps up the whole package in a suitably aggressive style.
The Mansory Stallone GTS is finished in the company's signature "Daytona Grey" paint job. In stark contrast with the exterior's dark colouration, the interior is finished in bright, electric blue leather upholstery, designed by master craftsmen, and accentuated with white stripes. The blue and white colour scheme even applies to the dashboard providing an astonishing pop of colour as you enter the vehicle. Even from the outside, hints of blue from the interior can be seen and provide a tasteful contrast against a backdrop of "Daytona Grey".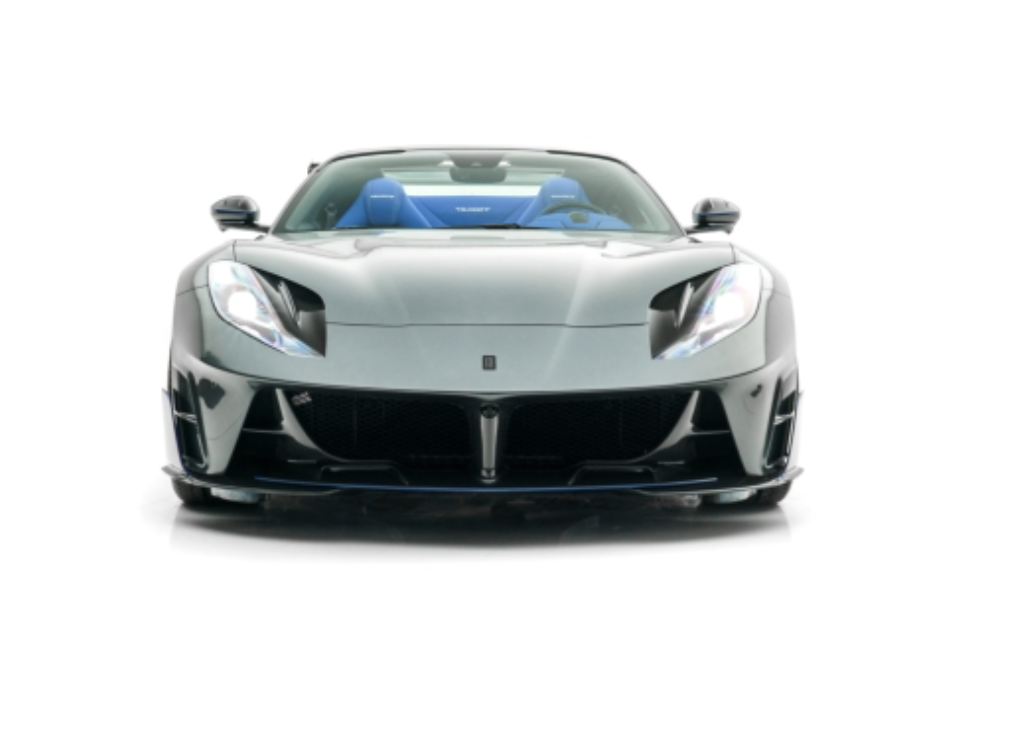 While Mansory's treatment is more often focused on enhancing aesthetics rather than performance, for this makeover, the Ferrari 812's 6.5-litre V12 engine was not spared either. The engineers at mansory tweaked the already powerful engine with an ECU tune up and added a new sports exhaust system. The upgrades added around 30 BHP and 16 lb-ft of torque, bringing the Mansory Stallone GTS's output to 819 BHP and 546 lb-ft of torque. Marginally greater than the original GTS's performance. Top speed here is increased slightly to 214 mph (344.4 km/h), and it will reportedly go from 0-62 mph (0-100 km/h) in 2.8 seconds.
Though one of Mansory's less otherworldly redesigns, the Stallone GTS is still extremely visually striking. In this case, the less outrageous may have worked in the car's favour as the Ferrari 812's iconic design is difficult to rework without completely changing its DNA and destroying the stylistic choices. The Italian automobile's characteristics are undoubtedly retained while adding a touch of otherworldly, menacing, aggression. To find out more about prices and other information on the Mansory Stallone GTS, head over to Mansory's website.