Luxury Homes
Luxury residential waterfront project launched at Dubai Creek Harbour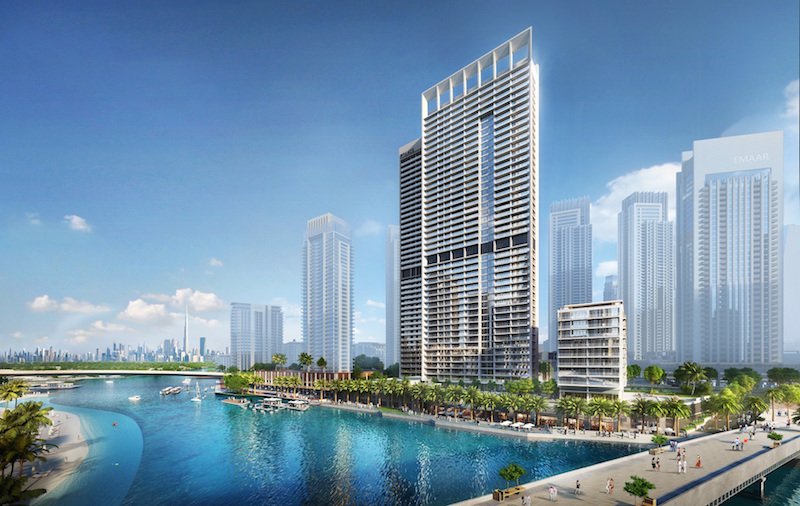 The 44-storey Palace Residences tower is the first launch in the Dubai Creek Harbour development in 2019
A new luxury residential waterfront project has been launched in Dubai Creek Harbour, the mega development coming up in the emirate.
Palace Residences will feature branded one, two, three and four bedroom apartments which will be serviced on demand by Emaar's Address Hotels + Resorts. The number of units available for sale was not disclosed.
The 44-storey tower is located adjacent to the upcoming 121-room Palace Dubai Creek Harbour hotel – which will also rise 44-storeys high.
Residents will have access to amenities in both the residential towers and the hotel including a rooftop infinity edge swimming pool, rooftop lounge and grill, a gymnasium, 24×7 concierge service and valet parking.
They can also utilise the hotel's services and amenities such as the spa, meeting rooms, hotel service, and all-day dining outlet.
Residents will also have access to a yacht club and a viewing deck.
Investors will be offered a five-year property management services by Emaar, 50 per cent discount on membership at the Palace Dubai Creek Harbour Spa and pool, as well as 25 per cent discount on food and beverage at the hotel's outlets, a statement said.
Palace Residences is the first launch in the Dubai Creek Harbour development in 2019, with sales to commence on January 7.
The mega Dubai Creek Harbour – being developed by Emaar and Dubai Holding – features over 7.3 million sq m of residential space, nearly 940,000 sq m of retail precincts, 300,000 sq m of commercial space, over 66,000 sq m of cultural space, 700,000 sq m of parks and open spaces, and 24 hotels with 5,800 rooms.
It will feature the Dubai Creek Tower – set to become the tallest tower in Dubai when complete, as well as Dubai Square, a mega 'tech-driven' retail project which will offer 8.07 million sq ft of gross floor retail space – nearly double the gross leasable area of Dubai Mall.
It will also include Creek Island Dubai with the Creek Marina, which will have a 286-room upscale lifestyle hotel Vida Harbour Point, retail, dining and leisure venues, a yacht club, three hotels, a promenade, pedestrian walkways, and art installations.
Dubai Creek Harbour will also have schools, hospitals and recreational facilities as well as two Dubai Metro links.
When completed, the mega development will be home to over 200,000 people.
In August, it was announced that the first residential units in the mega-development will be handed over in the first quarter of 2019.
Over 5,000 residents are set to move in to their homes in Creek Marina this year, with over 12,750 residents to move in next year.
The launch of the project comes even as residential property prices in Dubai continue to drop.
Similar to 2018, prices could fall by 5 to 10 per cent in 2019, weakened by new supply, a strong dollar and lower oil prices, the Middle East chief executive of Savills said this week.