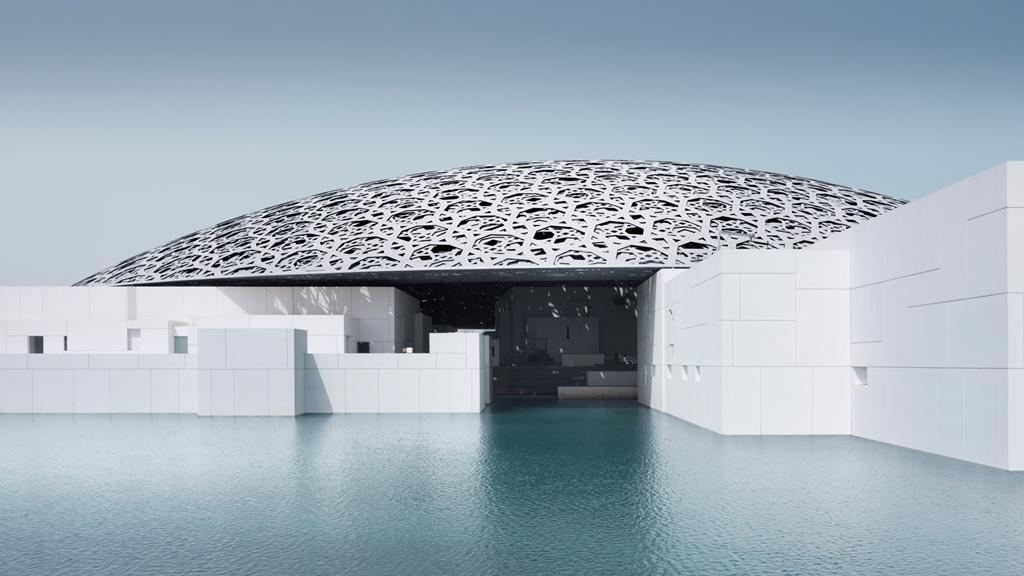 At long last, the Louvre Abu Dhabi has announced it will open its doors to the public on 11 November 2017. The soaring silver dome of light and shade in Saadiyat Island's burgeoning Cultural District will make its long-awaited debut and bathe art hungry visitors in its long-awaited "Rain of Light."
The museum has been designed by Jean Nouvel, a French architect who has been awarded the Pritzker Prize, a top recognition in the field of architecture. Inspired by Abu Dhabi, Nouvel designed the Louvre Abu Dhabi as a 'museum city' in the sea; its soaring dome an ode to nature with elements that take inspiration from Abu Dhabi's ever-present date palms.
The 180 meter-wide and eight-layered dome covers the majority of the museum, and is one of its defining features. Though the dome weighs 7,500 tonnes – as much as the Eifel Tower, its weightless appearance is a feature of its brilliant design.
Once open, the museum's 600-piece permanent collection, as well as important loaned artworks from prestigious French institutions, will form an art historical narrative taking the visitor from ancient times to the contemporary including loans from 13 key French institutions, such as paintings by Leonardo da Vinci's and Edouard Manet.
The cultural hub will have art galleries, a temporary exhibition space, a children's museum, a 200-seater-auditorium, a restaurant, a café, and retail space.
Emirates Palace will collaborate with the internationally-acclaimed museum to host a series of special talks and tours in weeks and months after it opens available exclusively to our guests.
"To purchase advance tickets or learn more about the museum, visit www.louvreabudhabi.ae."