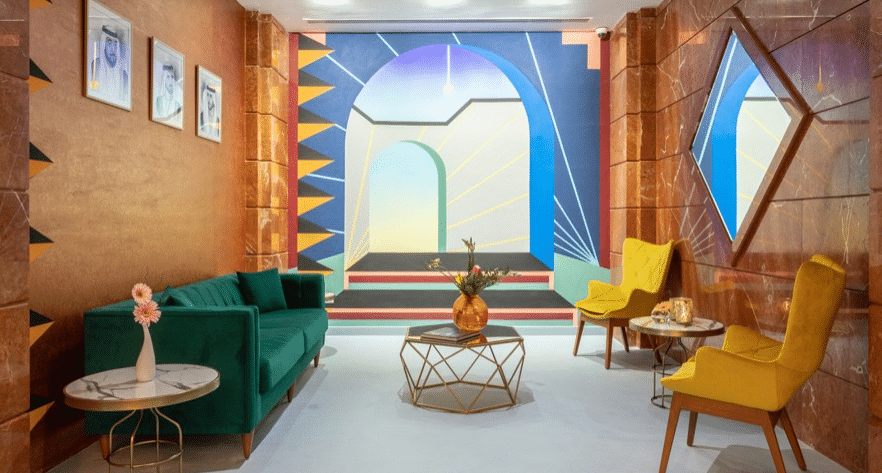 New property adjoining Mazaya Centre set to be rebranded Leva Hotel and Suites after obtaining four-star rating – and Business Bay is coming up next
Leva Hotels officially opened its first property in Dubai.
Originally positioned as Hotel Apartments, the property – which contains 162 studios and 16 one-bedrooms – adjoins Mayaza Centre close to Downtown Dubai. It is set to be rebranded Leva Hotel and Suites after obtaining a four-star rating.
The small but bright lobby area (pictured) targets millennial and younger travellers while Kitchenette-style facilities (hot plate, microwave, fridge, iron) are available with 49-inch screen TVs and a 'business hub' provides executives with a working area in the lobby.
Owner and founder JS Anand said: "The studios are not as big as a studio apartment so I can technically class them as a hotel room, and that's why I'm making the change."
Cappuccini Italiani is handling its F&B covering room service, the breakfast coffee bar/restaurant in the lobby – with a traditional oven from Italy making fresh pizzas – and top-floor poolside, which offers sweeping Skyscraper views and a deck for small events. Leisure includes a spa with six treatment rooms, opening in two months, a gym and shisha facilities.
Leva Hotels was announced two years ago but the 83-key Deira project has been delayed, and so Anand plumped for this ready-made opportunity, signing a 10-year lease, though it took 63 days to convert the residential units. Siraj Finance in Abu Dhabi is a funding partner.
Leva plans to hit the ground running with 208-key hotel in Business Bay nearing completion. "It's ready, I'd say it's about 45 days to open."