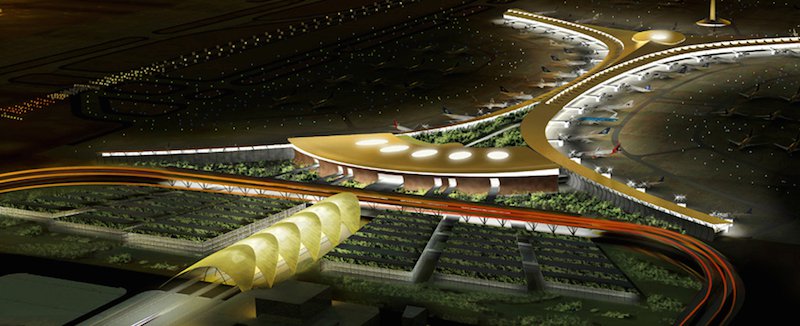 The airport's soft launch comes despite the GACA cancelling a concession to manage the facility earlier this year
Jeddah's new King Abdul Aziz International Airport welcomed its first commercial flight on Tuesday, as part of the soft launch of operations at the new facility.
The flight SV 1291, operated by national carrier Saudi Arabian Airlines (Saudia), flew to Gurayat, a northern domestic airport in Saudi Arabia.
The Airbus A320 flight departed Jeddah at 5.15 am local time on Tuesday and arrived at 7.10am in Gurayat.
Jeddah's airport will have a four-phase launch with the official opening in the first quarter of 2019, the General Authority of Civil Aviation (GACA) said. The phased opening is aimed at ensuring that the airport is "fully functional" and that employees are well-trained, it stated.
Under phase one, a small number of domestic flights will operate between May to July. In phase two – from July to September – there will be an increase in the number of domestic flights.
By phase three, which will run from November to December, all domestic flights will be shifted to the new airport, and the final phase from January to March 2019 will see the airport accommodate domestic and international flights.
When fully open, the airport will operate 46 gates, but during the soft launch, only six gates will handle a limited number of flights, officials said. Additional gates will be opened in line with the growth in capacity.
"The new KAIA is a major milestone for Saudi Arabia and one that will help meet the goals of Vision 2030 to support and drive the Kingdom's economic development," Abdulhakim Al-Tamimi, president of GACA, said in a statement.
The airport provides a platform that will allow the kingdom to play a greater role as a regional hub for transport and logistics services, and support the growing number of pilgrims to the two holy mosques."
When open, the new airport will be a "world-class resource" and "a projection of the kingdom's ambitions to the world," Al-Tamimi added.
The airport's soft launch comes despite the GACA cancelling a concession to manage the facility earlier this year.
The GACA awarded the 20-year contract to Singapore's Changi Airports International and Saudi Naval Support Company in April 2017 but terminated it in February this year.
The companies said they had "strictly observed the request for proposal process stipulated by GACA".
The authority said it plans to award a new concession to a local and international consortium soon.