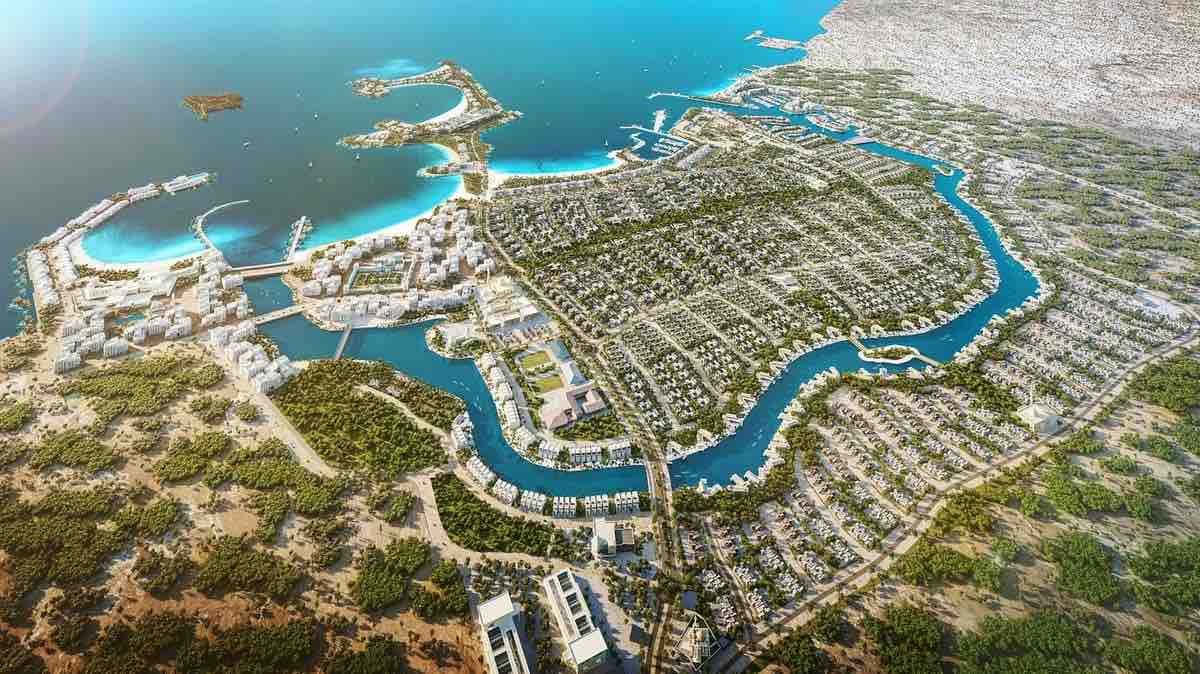 Residential community and nature reserve to target second-home holiday market.
Abu Dhabi real estate developer Imkan plans to build a Dh15 billion 'riviera' project located on a stretch of coastline between the emirate and Dubai, targeting the nascent second-home investment market.
The project, called Sahel Al Emarat, or 'Riviera of the Emirates', will occupy 370 hectares of land in Abu Dhabi's Ghantoot nature reserve, close to the Dubai border. The first phase of 293 small, "ranch-like", villas – called Al Jurf Gardens – will cost around Dh2bn to build and is scheduled to be completed by 2021.
"This is the first time someone is building a fully integrated leisure community where you can buy a holiday home to escape the city, and it will fill a niche in the market."
Two further phases are planned, including Jiwar Al Qasr in phase two – a museum created from the refurbishment of an existing palace on the site – and Marsa Al Jurf, a marina, canal, more residences and leisure facilities in phase three. There will also be a 'fishermen's village' complete with narrow alleys and low-rise buildings.
The project will place a strong emphasis on nature and seek to conserve the existing 100,000 trees, sea turtles and other wildlife at the Ghantoot reserve, creating a coastal "retreat" for UAE city dwellers similar to New York's The Hamptons, Mr El Hindi said.
Residential property values and rents in the UAE have declined in the wake of a three-year oil price slump. However, developers have resumed activity and launched several sizeable new schemes in the past year, buoyed by increased government spending and a resurgence of oil prices that breached $80 per barrel last month. Many new projects are seeking to drive tourism – either domestic or international – in line with government ambitions to increase the number of visitors to the UAE.
Imkan has financing in place "for least 20 per cent of the project as required by UAE real estate law", and Imkan has a "very good balance" of debt and equity across its project portfolio ranging from 30:70 debt to equity, to 40:60, the chief executive said. The tender for phase one will go out in the first quarter of 2019 and construction is expected to commence in the second quarter.
Imkan is building four other projects in Abu Dhabi. Its most high-profile is the 18-hectare Makers District on Reem Island, which is intended to become a hub for creative businesses and workshops.
The company plans to announce two further projects before the end of this year as it continues to ramp up its offering of "soulful" mixed-use communities, said Mr El Hindi. He declined to reveal additional details.
Imkan's other schemes are the 46,000 square metre Sheikha Fatima Park, a public realm project under construction at present, and Nudra, a luxury development of 37 villas on Saadiyat Island, which broke ground earlier this year.
It is in the schematic design phase of Ras Al Akhdar, a luxury hotel and residences unveiled at the Cityscape Global conference in Abu Dhabi in April. The project is designed by British architect Thomas Heatherwick, founder of London-based Heatherwick Studio, which is designing Singapore's Changi Airport expansion, among other projects.
The company's pipeline also includes one scheme under construction in Egypt and two in Morocco, with the Cairo-based Alburuoj project scheduled for handover in the second quarter of 2019.