Staycation UAE
Travel
HIT ESCAPE AT DUBAI'S MOST ICONIC DESTINATION – W DUBAI – THE PALM OPENING JUNE 2018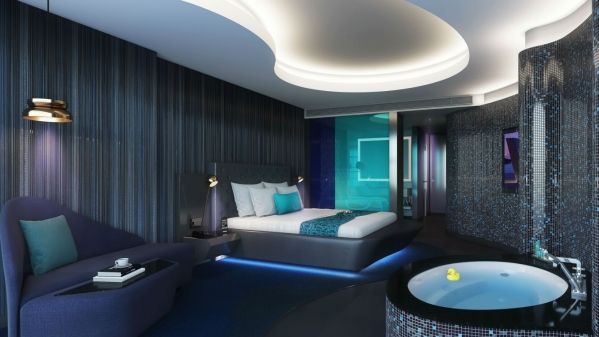 "W Dubai – The Palm is an extraordinary oasis remixing never-ending interpretations of music, fashion, design and fuel from sunrise to sunset, non-stop."
The only way to arrive is in style. Where the glistening Arabian Gulf's curvaceous coastlines meet the stunning geometry of modern skyscrapers,
From 350 guest rooms and suites with uninterrupted views and dreamy amenities to the go-to glow and glamour of AWAY® Spa, the first Escape in the Middle East redefines city getaways: here, you can be in the center of the action without being the center of attention or to show up and show off. Set your scene with insider access to sizzling W Happenings on the WET® Deck and SoBe rooftop, or elevate epicurean encounters at celebrity chef destination restaurants Torno Subito and Akira Back. Fill up on golden sunshine on the crystalline white sands of our beach – the best on the Palm, a private playground for exhilarating water sports or just basking in year-round summertime fun.
ROOMS & SUITES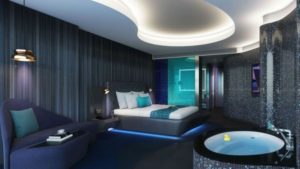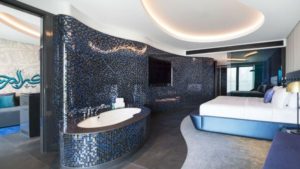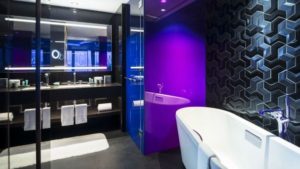 HOTEL INFORMATION 
Check-in from 15:00
Check-out until 12:00
Complimentary Valet Parking
24-hour Concierge Desk
Free Wi-Fi
HOTEL FEATURES 
350 Guest Rooms & Suites With Sea View
E-WOW Suite – The Largest Suite in Dubai
6 Restaurants & Bars
24/7 W Happenings
AWAY® Spa
A.W. – Pets Are Welcome
RESTAURANTS & BARS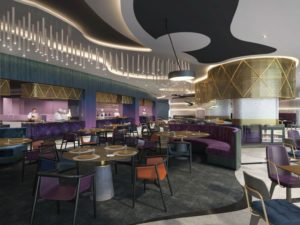 What are you in the mood for? While celebrity chefs Massimo Bottura and Akira Back headline destination restaurants with their unmistakable styles, all-day dining at LIV satiates inspired cravings with bountiful ingredients and once-in-a-lifetime delicacies with its Bucket List. Defy all definitions of sunset rooftop bars at SoBe, and choose to thrill or chill on the WET® Deck or at W Lounge.
WET® DECK 
TORNO SUBITO 
AKIRA BACK 
SOBE 
LIV 
W LOUNGE 
SHISHA LOUNGE 
MEETINGS / WEDDINGS / SOCIAL EVENTS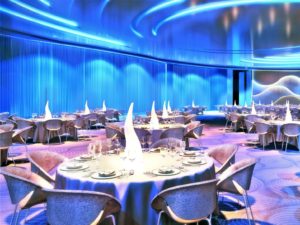 Whether toasting your engagement, walking down the aisle or renewing vows, choose the perfect spot to celebrate.  Choose from incredible sunsets at the Beach, to once-in-a-lifetime bashes in our E-WOW Suite  – the largest suite in Dubai with rooftop panoramic skyline and sea views. Go all out in the Great Room amplified by a bridal room, private entrance, decorations and more, all of which can be customised to exactly how you've always dreamed it would be. Get wed your way.
It's never business as usual, whether you're taking the podium in our 1,215 square-meter Great Room or presiding in our Strategy Rooms and Studios, all powered by natural daylight and state-of-the-art audio visual equipment. Special facilities such the WIRED Business Center, private entrances and outdoor spaces elevate your event. Customise it all whether brainstorm or boot camp, to drive your team-building and next level success goals.
Remix the way you mingle, whether you're hosting a private party or heating up the scene with insider access to the hottest W Happenings. Against scintillating backdrops such as stunning sunsets and dazzling skylines, join the jetstream of global influencers and progressive creatives to the beat of what's NEW/NEXT in fashion and music, fueled by cleverly crafted cocktails by W mixology experts. From the alt-Miami Beach vibe of rooftop bar SoBe and the chill feels at W Lounge to sun-soaked extravaganzas on WET® Deck, we raise the bar for socialising in the stratospheres of style.
BEACH & WATER SPORTS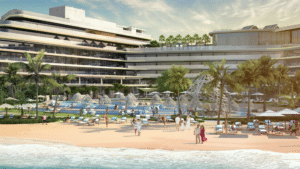 Bask in golden sunshine all year round on our pristine private beach, scenically situated on the Palm's most picturesque coast as the glistening Arabian Gulf stretches into the horizon. Recharge with energetic programming curated with fun and fuel in mind so workouts never feel like work, whether running and Broga or exhilarating water sports like wakeboarding, canoeing, windsurfing, paddle-boarding, Sea Soul Cycle or pedalos. Under coconut trees lightly touched by the breeze, relax on bean bag chairs with your favorite refreshers chilling in date palm trunk ice buckets at your fingertips. Stay there until the sun goes down while the skyline lights up, the perfect position for taking in unplugged music jams by local artists.