The company closed its Emirates Towers restaurant
Cantonese restaurant chain Hakkasan is to open a new location at Dubai's Atlantis hotel in September.
The plans follow the closure of Hakkasan's restaurant at the city's Emirates Towers hotel on July 1.
The new outlet will be based at Atlantis' The Avenues precinct and feature several dishes unique to the location, which hosts restaurants from chefs including Gordon Ramsay, Giorgio Locatelli and Nobu Matsuhisa.
It will then be shifted to the Royal Atlantis Resorts and Residences after the property is completed at the end of 2019.
"We are very excited to start this journey with Atlantis, offering all-encompassing experience drawing on Hakkasan Group's global expertise in combining hospitality and entertainment in innovative and memorable ways," said Nick McCabe, CEO of Hakkasan Group.
"We are confident that diners will enjoy this Hakkasan at Atlantis, The Palm whether they are coming for our authentic cuisine, award-winning cocktails, stylish atmosphere or all of the above."
Hakkasan is the latest opening announced for the $1.4bn Royal Atlantis including José Andrés' ThinkFoodGroup's Spanish-themed Jaleo and the first Middle East restaurant of celebrity chef Heston Blumenthal.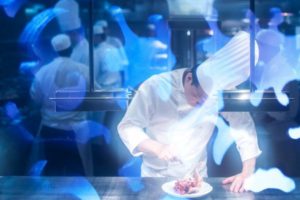 The wider Royal Atlantis Resort and Residences project features 795 hotel rooms and suites and 231 luxury apartments in three-, four- and five-bedroom configurations with private gardens, terraces and pools.
South Korea's Ssangyong Engineering & Construction won the contract to build the resort alongside Belhasa Six Construct in 2016.
Following the closure, of the Emirates Towers location, Hakkasan only has one other UAE restaurant at Abu Dhabi's Emirates Palace hotel.
Hakkasan announced plans in September 2013 to diversify into hospitality with a Palm Jumeirah Resort but there have been few updates since then.
The company's website also indicates it will open a restaurant in Saudi Arabia this year, adding to a footprint of more than 11 locations.