Jets
Gulfstream's G600 business jet to begin deliveries soon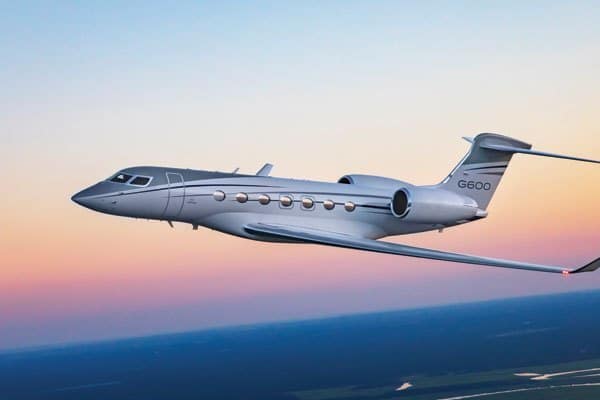 It has a range of 5,500 nautical miles at a speed of Mach 0.9
American aircraft manufacturer Gulfstream Aerospace was displayed at the Paris Air Show earlier this month and is now its final stages of securing FAA approvals with deliveries expected to commence this year.
The long-range aircraft recently flew to Geneva using sustainable alternative jet fuel.
The G600 has a range of 5,500 nautical miles at a speed of Mach 0.9 connecting major international destinations.
Its maximum range though is 6,500 nautical miles – that's Los Angeles to Paris in one hop – at a speed of Mach 0.85 and with eight passengers on board.
The aircraft can seat up to 19 and can sleep nine passengers. Those passengers are buffeted against jet lag due to a clever system wherein the pressure inside the cabin is maintained at 4,850 feet (nearly a third less than commercial airlines) and the cabin is filled with fresh air every two minutes.
The two Pratt & Whitney Canada Pw815GA engines propel this aircraft to a maximum cruising altitude of 51,000 feet.
For the crew piloting this aircraft, Gulfstream has introduced a new Symmetry Flight Deck system in the cockpit which uses touchscreens to reduce the number of buttons in the cockpit.
An Enhanced Vision System, linked to a heads-up display, ensures better visibility during night flights.
For customers of this $58m corporate jet, there are a number of options to choose from for the interiors including bamboo or stone flooring and handwoven carpets. The in-flight Gulfstream Cabin Management System uses a series of touchscreen devices to control lighting, temperature, the window shades across the 14 wide windows in the cabin and the entertainment system.
Deliveries of the aircraft were scheduled to have already commenced in H1 2019, but the partial US Government Shutdown from December last year until January led to a few delays that have pushed the delivery schedule by a few months.