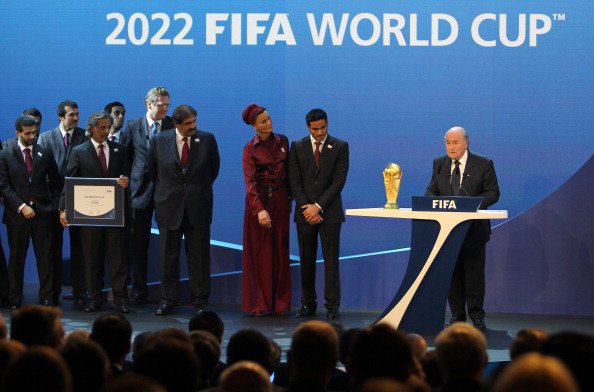 Saudi minister reportedly calls for venue to be shifted if Qatar found guilty of wrongdoing
Qatar's hosting of the FIFA World Cup in 2022 has once again come under controversy with reports claiming that the country could lose the rights for the event.
While reports say England could be in contention to host the event, Saudi sports minister Turki Al-Sheikh has said the US would also be considered as an alternate venue, if Qatar is stripped of the hosting rights, according to German news outlet Online Focus.
"I do not wish for the World Cup to be withdrawn from Qatar by FIFA. However, if found guilty of any ethical violations, the Qatari government must accept the consequences of their actions," Al-Sheikh was quoted as saying on social media.
Football governing body FIFA has come under pressure to shift the event away from Qatar after a report claimed that the Gulf state resorted to vote-buying for the 2022 World Cup, The Sun reported.
The report, published by FIFA, allegedly found that a secret payment of $2.6m was made to the 10-year-old daughter of Brazilian FIFA broker Ricardo Teixeira, while three senior people were also apparently flown to a meeting in Rio in a Qatari-owned jet.
Reports state that FIFA plans to make a final decision on the 2022 World Cup venue only next summer, with president Gianni Infantino seeking votes from all 211 member countries.
Qatar has faced a host of complaints after winning the bid for the 2022 World Cup including its alleged ill-treatment of migrant workers who are building the stadiums and the fact that the event will be hosted in summer, when temperatures can reach close to 50 degrees in the country.
Last month, it was also alleged that AL Jazeera – Qatar's state broadcaster, agreed a $100m payment to FIFA if the country secured the finals.
UK publication The Mail on Sunday reported that the allegations were made in a new book by a whistleblower from within Australia's failed 2022 bid, Bonita Mersiades, who spent years investigating the voting process.
On top of the promised payment by Al Jazeera, now beIN Sports, Mersiades alleges former FIFA president Sepp Blatter knew Qatar would win before the vote was even conducted.
He was so certain of this that he called US President Barack Obama in the days before the vote to tell him the country's bid would be unsuccessful, according to the report.