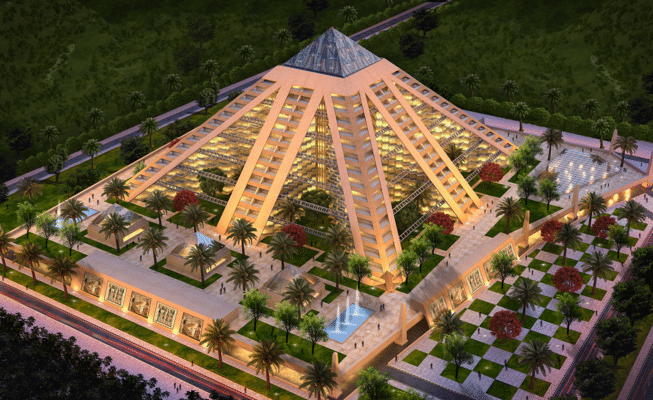 The wider project was first launched in 2005 but has been hit by repeated delays
Dubai's Falcon City of Wonders took a step forward on Wednesday with the announcement of hotel management contracts for two of its pyramids.
The SAM Polaris and SAM Vega Pyramids form part of the seven wonders that give the extravagant mega project its name.
It was originally proposed more than a decade ago as a residential, tourist and entertainment attraction.
However, to date most development has focussed on residential villas.
Salem Ahmad Almoosa Enterprises, the family-owned conglomerate that is spearheading Falcon City, said in 2016 it has retaken control of much of the development after sub-developers delayed construction.
Wednesday's announcement will see hospitality management firm Oakwood Worldwide operate hotel and serviced apartments in two of the city's three pyramids.
Vega features 1,500 units and will have 1,527 parking spots, while Polaris has 290 units and 490 parking spots.
Both will feature, leisure food and beverage and retail outlets.
Falcon City of Wonders chairman and general manager Salem Almoosa said the agreement "reflects the confidence of international hospitality players in Falconcity of Wonders' potential to become a major landmark in Dubai and the region as a whole".
No completion data was given for either structure.
Other key attractions in the 41-million-square-foot master plan include the Leaning Tower of Dubai, the Dueiffel Tower Dubai and the Dubai Hanging Gardens of Babylon.
These will be joined by 5,500 residential units, a theme park, schools, sports facilities and retail centres, according to the developer.