When you imagine your wedding day you probably have a few things that you're willing to splash out on – a four-tiered cake, a bespoke dress, a band perhaps… what about an entire cruise ship?
A couple who were born and raised in Dubai just had one of the most extravagant weddings that we've ever heard of. UAE-based business tycoon Rizwan Sajan decided to go all-out, and booked the Costa Fascinosa for his son Adel's wedding. The Chairman and Founder of Danube Group booked the ship as part of four-days of wedding celebrations with over 1,200 guests (we guess when you start inviting those numbers it's hard to pin down an exact figure).
The cost of this extravagant wedding is estimated at $30 million (again, hard to pin down an exact figure). The Bollywood-style nuptials saw his son marry dentist and beauty queen Sana Khan in front of a crowd including Sushmita Sen, Juhi Chawla, Sofie Chowdary, Malaika Arora, Shilpa and Shamita Shetty.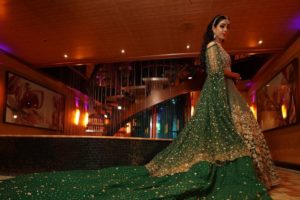 The Cruise
The Costa Fascinosa, which has 114,500 gross tonnage and a maximum capacity of 3,800, had four days of themed parties in the multiple different venues. The whole ship was kitted out in colours, fabrics and décor to represent India.
The Food
Over 75 chefs were on board the ship, who were carefully chosen by the family.
The stop-offs
Costa Fascinosa set sail from Genoa on the April 5 with the couple, their families and a staff. It then docked at Barcelona where the guests kick-started the celebration with a retro-themed welcome dinner. Later, the ship arrived in Marseilles, where the guests enjoyed a day of excursions around town before bringing in the evening celebrations. They continued to Cannes where, on board the ship anchored in the bay, the 'Baraat' Ceremony was celebrated. The cruise ended on the April 9 at Savona.
By the sounds of it, the couple didn't have much of a say in the wedding, with Rizwan Sajan saying, "The wedding of my only son Adel is by far the most awaited event of my life and I planned on having a cruise wedding for him over eight years ago." But then again, if someone offered to plan us a $30 million dollar wedding on a cruise ship across Europe we'd be more than happy to appoint them as chief wedding planner.
He added: "We planned a very unique celebration for all our guested and have invested in every little detail of the wedding to make it special for the couple. We are extremely happy that our friends and family were present on the occasion to bless the new couple and feel blessed to have a new family member. My wife Sameera and I welcome the lovely Sana in our family and look forward to extending a long and joyful relationship with the entire Khan family."
We just did a quick check around the office and nobody's father-in-law even bought them a wedding present! We're feeling quite hard done by right now…