Boys Toys
Dubai-backed Hyperloop One completes second phase of testing
Dubai-backed Hyperloop One, the company building the high-speed hyperloop transportation system, has successfully completed the second phase of testing in the Nevada desert, it announced on Wednesday.
The company completed phase two testing on July 29, and said it "achieved historic test speeds travelling nearly the full distance of the 500-metre DevLoop track".
With Hyperloop One, passengers and cargo are loaded into a pod, and accelerate gradually via electric propulsion through a low-pressure tube. The pod lifts above the track using magnetic levitation and glides at airline speeds for long distances due to ultra-low aerodynamic drag.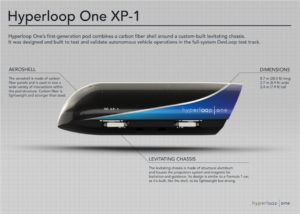 As part of phase two, the Hyperloop One XP-1, the company's first-generation pod, accelerated for 300 metres and glided above the track using magnetic levitation before braking and coming to a gradual stop.
The tube was depressurised down to the equivalent of air at 200,000 feet above sea level, a statement said.
All components of the system were tested, including the electric motor, controls and power electronics, magnetic levitation and guidance, pod suspension and vacuum system.
On a comparison bases, phase two saw the system achieve 2.7 times faster speed ( 192mph) compared to phase one (69mph). The Hyperloop One also went 4.5 times farther in terms of distance (1,433 feet vs 315 feet) and recorded 3.5 times more power to the pod (3,151hp vs 891hp).
Josh Giegel, president of Engineering and co-founder of Hyperloop One said: "We successfully completed Phase 1, proving that Hyperloop One technology works and that Hyperloop is real.
"Phase 2 was far more difficult as we built upon everything we learned from our initial test and accomplished faster speeds at a farther distance. We're now one step closer to deploying Hyperloop around the world."
Hyperloop One CEO Rob Lloyd added: "We've proven that our technology works, and we're now ready to enter into discussions with partners, customers and governments around the world about the full commercialisation of our Hyperloop technology.
"We're excited about the prospects and the reception we've received from governments around the world to help solve their mass transportation and infrastructure challenges."
The Los Angeles-based company is one of several firms competing to introduce the world's first operational hyperloop system.
Last year, it signed an agreement with Dubai's Roads and Transport Authority to conduct a feasibility study into a potential hyperloop system linking Dubai and Abu Dhabi. If completed, the system will link the two emirates in 12 minutes.
What a hyperloop station in Dubai will look like
Speaking to Gulf Business earlier this year, creative director at Hyperloop One Colin Rhys confirmed that the company would open its first international office in Dubai in September.
"The focus [in the local office] will on be on project development, engineering, prototyping – basically everything we do in Los Angeles," he said.
"We have already started hiring and we are focusing on hiring Emiratis," he added.
Hyperloop One begins hiring as it prepares to open Dubai office in September
Los Angeles-based Hyperloop One, which developing the high speed transportation technology, has released pictures of what a hyperloop station in Dubai might look like.
The start-up is working to introduce the world's first operational hyperloop system, which involves sending passenger and cargo pods through tubes at speeds of up to 670mph.
Last year, it was selected to participate in the Dubai Future Accelerators Programme (DFA) and moved its base to the emirate.
It is currently developing a hyperloop system that will reduce the travel time between Abu Dhabi and Dubai to 12 minutes.
Hyperloop One times between cities in the GCC.
In February, Dubai's Roads and Transport Authority (RTA) said it had begun studies to test the feasibility of introducing the hyperloop technology in partnership with Hyperloop One.
Hyperloop One and the RTA carried out provisional studies focusing on the suggested routes in Dubai; the economic, financial and environmental impact; the rate of resulting reduced traffic congestion; and carbon emissions, a statement said.
Studies were also carried out to examine the standards of issuing safety certificates.
"The system is still fairly new and has yet to be experimented or tested on the ground and its safety certifications have not been issued," Mattar Al Tayer, director general and chairman of RTA said at the time.
"So it has been agreed to explore the feasibility of providing this technology in Dubai in future without setting a timeline for the time being," he added.
Hyperloop One is also working with Dubai ports operator DP World, which has invested in the company to explore the technology's uses for transporting cargo.
At the Middle East Rail conference in Dubai on Tuesday, the firm's CEO Rob Lloyd said the company is planning to hire dozens of staff in the UAE.
Hyperloop One to hire dozens of UAE staff
The company also released images of what its potential new hyperloop station and pods in Dubai may look like.
A rendering of a potential Hyperloop station in Dubai.
What the inside of a Hyperloop station in Dubai would look like.
A bird's-eye view of a potential Hyperloop station.
The control station, where the Hyperloop will be managed from.
The interior of a Hyperloop pod.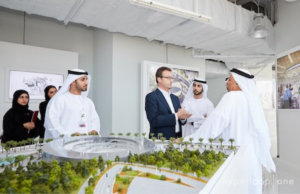 Hyperloop One CEO Rob Lloyd presents the future of Hyperloop in Dubai.