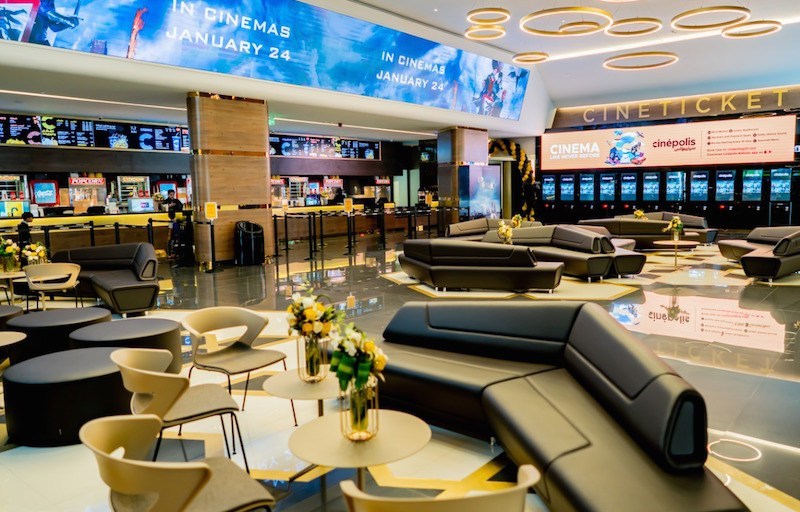 The first cinema is slated to open in Lulu Mall, Dammam, at the end of this year
Latin American cinema operator Cinépolis has announced plans to invest over $300m in Saudi Arabia over the three years, it has announced.
The company will launch six new movies complexes with 63 screens across the kingdom over the next two years.
The first is slated to open in Lulu Mall, Dammam, at the end of this year, with four scheduled for 2020 and the sixth for 2021. These will be located in Al Hokair Time in Jazan, Obhour Mall in Jeddah, Cordoba Mall in Riyadh, Najran City Center and Al Massarh Mall.
Cinépolis International received Saudi's fourth cinema licence in August last year under the entity Luxury Entertainment, which has partnered with Al Hokair Group and Al Tayer Group.
Cinépolis said it will introduce theatre concepts such as luxury, premium, macro XE, 4D emotion and kid-approved Cinépolis junior auditoriums in the kingdom.
The first of its kind in the kingdom, the junior theatre features a jungle gym with slide and ball pit, as well as a bean-bag seating.
Luxury auditoriums will include 180 degrees leather reclining seats with personal amenities, Maitre d' call buttons, personal bag storage and adjustable tables, while macro XE auditoriums will have screens that are triple the size of the ordinary cinema screens.
The cinemas will offer F&B options such as buttered popcorn and nachos, as well as paninis, flatbread pizza, crêpes and speciality smoothies. They will also feature the specialty coffee shop, 'Coffee Tree'.
In the GCC, Cinépolis opened its first cinema in Bahrain in January 2019.
A spokesperson said: "Cinépolis' launch into the Saudi Arabia entertainment market is a key milestone in our expansion strategy over the next five years."
Saudi Arabia announced in December 2017 that it would lift a 35-year-old ban on cinemas, with the first movies in almost four decades being screened last year.
Around 2,600 cinemas are expected to be open across Saudi Arabia by 2030 as part of the country's Vision 2030 diversification plan, which includes plans to develop the kingdom's leisure and entertainment sector.
Research last year by PwC Middle East showed that revenues from those cinemas could reach $1.5bn by 2030.
Saudi's overall entertainment industry is expected to contribute $24bn to the local economy and create 30,000 permanent jobs by 2030.