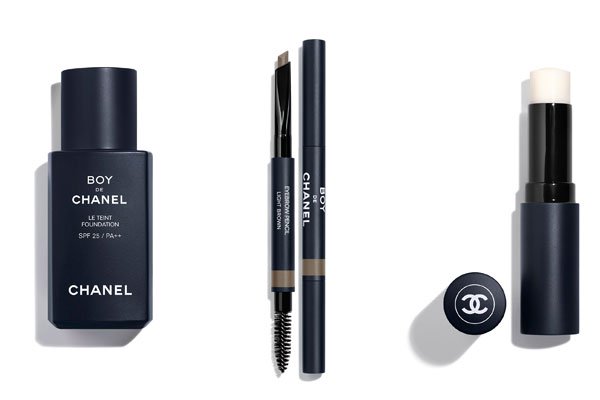 "Beauty is not a matter of gender; it's a matter of style."
Called the Boy de Chanel, the collection includes a tinted foundation available in eight colours, a matte moisturizing lip balm and an eyebrow pencil available in four shades.
The foundation has hydrating antioxidant elements and SPF 25 sunscreen too. The lip balm promises to keep your lips hydrated for eight hours and is filled with nourishing ingredients like jojoba oil, shea butter and a Vitamin E derivative. Chanel promises "lips without a hint of shine."
If you don't have thick eyebrows and need to fill in the gaps, Chanel has an eyebrow pencil as well. There's a light brown, deep brown, black and grey eyebrow pencil to match the colour of your brow. One side of the pencil has a spiral brush that can groom unruly eyebrow hair, while the other end has the part of the pencil that colours over the missing patches of eyebrow hair. Here too, it is waterproof and can do an eight-hour shift.
There are other top brands that also offer makeup collections specifically for men. Clinique, Tom Ford and MMUK, among others, already offer products like concealers, lip balms, skin care products and brow designers.
Smaller, yet significant, players in the segment include David Beckham who collaborated with L'Oreal to launch his own grooming collection called House 99 in January this year which included unique products like tattoo moisturizers and three-in-one beard purifiers.
The Boy de Chanel collection will launch in South Korea on September 1, followed by a worldwide launch across Chanel's e-commerce platforms in November and will then finally arrive in Chanel's boutiques from January next year.
With the new makeup collection, Chanel could be heralding a more fully-integrated vision of gender fluidity, a vision that it says began with its founder and her designs. In a press statement, Chanel said, "Just as Gabrielle Chanel borrowed elements from the men's wardrobe to dress women, Chanel draws inspiration from the women's world to write the vocabulary of a new personal esthetic for men."
"Beauty is not a matter of gender; it's a matter of style."