Cars
Bentley Continental GT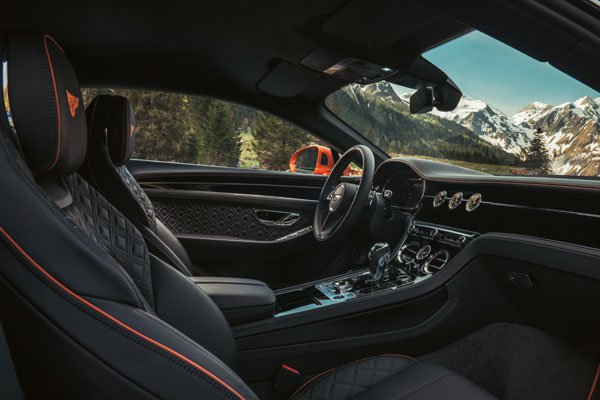 The new Bentley Continental GT is a potent mix of power, style and luxury
It's been a long time coming, but thanks to
some co-development and co-operation from sister company Porsche, Bentley has released its first new Continental GT in 15 years.
Porsche's contribution is not immediately visible, but the new Continental rides on a modular platform shared by VW Group's front-engine with rear- or all- wheel drive combo cars and was first seen last year in the new Porsche Panamera. We will next see it pop up supporting the Bentley Flying Spur.
For now, it forms the benchmark for a truly remarkable Grand Touring coupé that's lighter, more luxurious, technically advanced and spacious than the model it replaces.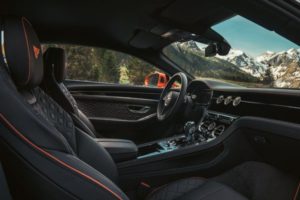 Under the hood resides a 626bhp, six-litre W12 twin-turbo engine that appears familiar but is very different from those used in previous Bentleys.
Having debuted in the Bentayga, this W12 motor has not only shed 30kg but has also been radically re-engineered with the front drive shafts punching through the sump
to make it fit into the smaller engine bay – coupled to a new ZF transmission.
It uses a new injection system comprising both port injection from the old car for more power with direct injection to ensure it meets new emission regulations.
The two turbos have also been upgraded to twin-scroll units and it features cylinder displacement which cuts out six- cylinders when cruising.
This helps the vehicle to achieve a stated 16 per cent better fuel economy with a range of 800km and even on our test of more than 600km through mountain passes and high-speed motorways, we saw better than 13L/100km average.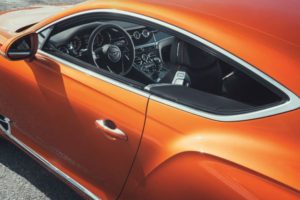 The transmission is an eight-speed ZF unit that uses Porsche's PDK double-clutch set up and was one of the reasons why the car's launch was postponed from late last year as engineers needed to give it a tweak to handle the engine's 900Nm of torque. On road, it provided rapid shifting that was close to seamless through its eight cogs.
The twin-scroll turbos eliminate all lag as the surge of power felt almost limitless and despite its portly 2,244kg, Bentley claims it will get to 100kph in 3.7 seconds and on to 333kph.
Portly it may be, but in addition to the 30kg lost in the drivetrain weight, the new Conti has also dropped 80kgs through the use of aluminium and composites in the body. The combination of more power and less weight was immediately noticeable.
The Continental pointed into corners like no Bentley before and more like an Aston Martin Vantage or AMG GT. This was no doubt helped
by the 48-volt dynamic ride rear anti-roll suspension from Bentayga and its three-chamber air suspension, which gives
the driver more control in the stiffness versus comfort battle.
Stopping's not a problem either despite the fact the expensive carbon ceramic discs are no longer available. In their place are the biggest brakes used on a production car of 420mm, 10-piston units on the front and 380mm, four-piston discs on the back that are similar in spec to those used on the Lamborghini Urus, though the Lamborghini's are carbon ceramic.
Gone is the car's claim of being an all-wheel drive in the sense we knew it as the previous model had a fixed 60:40 split rear to front AWD system whereas the new car is effectively a rear-wheel drive with a clutch that gives torque on demand to the front wheels as needed.
The front axle has moved forward 135mm not only for better weight distribution but also to give it a more aggressive look, while the 110mm longer wheelbase and 50mm wider footprint gives the car its assertive stance without sacrificing height and headroom.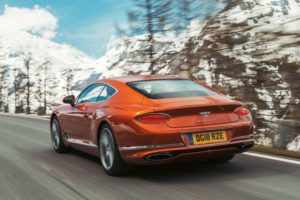 The inside is a radical departure from previous Bentleys and differs from Bentayga, feeling lighter and more spacious despite maintaining the Bentley hallmarks of timber, leather and chrome.
Ambient mood lighting includes razor thin LED strips across the dash and down the doors into the rear where it imitates the outside's coke- bottle hips.
Not content with just one timber veneer, buyers can specify two on the dash and doors, split by a chrome strip, while a new 12.3-inch nav screen is hidden behind a clever panel that rotates to show either a trio of analogue dials or continues the clean timber look.
A host of desperately needed driver aids such as a heads-up display, active lane assistance, traffic assistance, parking aids and reversing cameras are also included to bring the Continental GT into the modern era for the first time.