Cars
Audi's new A Team land to teach 2019 a lesson

At a breakfast round table discussion, the managing director Carsten Bender took a fresh step by inviting media folk for an introduction to the new senior management team and a good old chat over a delicious breakfast at the lighthouse in D3.
"As expected, 2018 proved a difficult year for Audi globally due to the largest model and technology initiative in Audi's history and coinciding with the switch to the new WLTP test cycle. We delivered 1,812,500 cars globally which is -3.5%" Carsten Bender MD Audi Group.
It is certainly true, that globally, auto-manufacturing is facing an adjustment period everywhere. Maybe more so across the luxury bracket but what needs to be highlighted here is not the cars delivered, although that is good. It is the explosion of new models and we do mean explosion which is bound to take up your time and bottom line.
Yet when you look at the four new cars last year, the two special editions and the e-tron plus the Q3 this year the marginal decrease in cars delivered does seem indeed marginal considering all else that is going on. In the Middle East region the overall decline in the luxury sector was 15% with Audi only shouldering 4% so market share was actually gained.
Going forward there are more Audi models than ever before – a lot more. Seemingly there will be a Q car for every A car and despite initial thoughts of dilution the customer desire for SUV features over a normal car is insatiable. We have to admit hot on the heels of the Q8 unofficial renders of the Q4 were already circulating and if they are anything to go by the proportions of the SUV look very good indeed.
In 2018 Audi brought four new models to the market, the A6, the A7 (my favourite) Q8 and the A8 flagship self-driving luxury sedan. On top of that we nod to the 20th anniversary of the Audi TT so of course that has a special edition coming out and to top it all off we celebrate 10 years of the Audi R8 or 10 years of the V10 as it has affectionally become known. It is a dizzying array of 1st class cars and of course the e-tron at hopefully the end of year will be here. The choice for the consumer has never been better and the choice for the enthusiast is excellent, the opportunity to get customers out of their competitors cars and into theirs has never been more tempting.
All of these new models and new technologies such as e-tron require huge and new servicing spaces. Ali & Sons has invested in a new 100 million aed facility expanding in Mussafah over 28,000 square meters with no less than space for 60 vehicles to be worked on at the same time. They will need it because aside from the e-tron in 2019 there is another new car coming, the Q3. Look a little further in Riyadh and there as been a SAR 20 million investment for an integrated showroom, sales centre and Audi sports Café for fans. Carsten goes on to explain that although this may seem all product focused it is only half the story.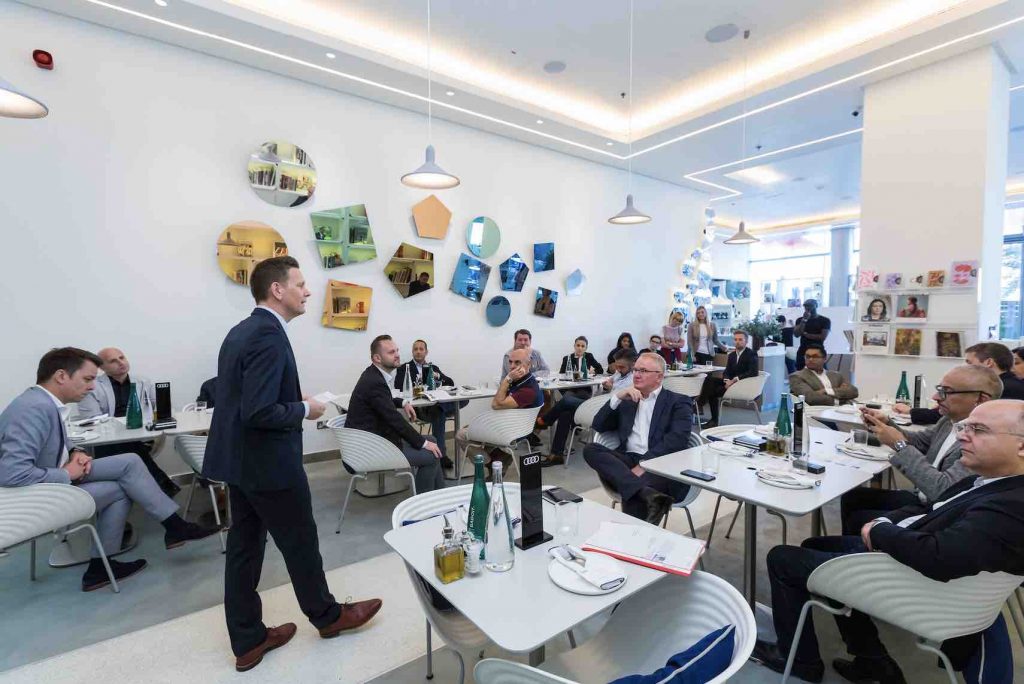 "In summary the key to success in 2019 for Audi Middle East is all about sustainable, profitable growth during a period of transition for our model mix. It is also about people – the educated team at Audi Middle East, our dealers, our customers and of course you our media partners. Now, I would like to introduce the new face of Audi Middle East – My Team who are going to be responsible for taking Audi Middle East into to a new era for the automotive industry. An era that is Digital, Sustainable and ready for Future Mobility solutions." Carsten Bender MD Audi Group.
We spend the rest of the morning eating scrambled eggs with truffles while enjoying lashings of tea and getting to know the new team. So much so that an hour and half passes in no time at all and we are late for our next meetings. One thing becomes crystal clear Carsten has assembled a team of executives who have decades of experience in their field but yet encompass a broad age spectrum.
Audi has always been known as the pack leader with technology, one of the most surprising things to learn at the breakfast was the Audi technicians can work on your e-tron with virtual reality based in the workshop while your car is somewhere else. Amongst the other details of the day this was nearly lost on me however this is an Iron Man moment. We drooled over the HoloLens computers that Tony Stark had access to and they are yet to materialize in any home or office but rest assured your Audi technician has had one for a while and he is working on your car while you sleep so, we are all Iron Man now.
It is great to see that a brand at the bleeding edge of the automotive curve has publicly placed a huge emphasis on people, the right people in house, putting time aside to welcoming media and customers in the same breath and going out of their way to meet their market. Carsten laid a heavy emphasis on Audi's commitment to future mobility solutions at the end of his address and that is something we are looking forward to hearing a lot more about in the future. At The Insider Middle East we hope these media engagements continue but since we have all had breakfast may we suggest brunch next time around?