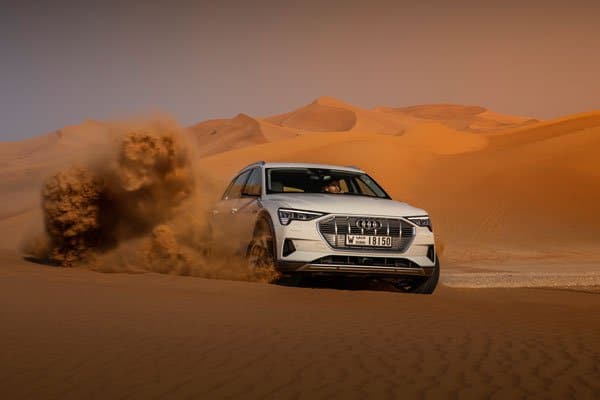 Abu Dhabi recently played host to the global launch of Audi's first all-electric car, the e-tron SUV
Welcome to a new world of motoring where we don't talk about gears, cylinders or turbochargers but instead learn about apps, home charging, online upgrades and opt-ins for car modifications.
Audi has released its first all-electric car, the e-tron SUV, and Abu Dhabi was chosen as the venue for the global launch. Three weeks of back-to-back waves of journalists flown in from all corners of the world to experience the e-tron in our backyard.
That's also significant as the UAE and Abu Dhabi's stature as a global sustainable and smart city is on the rise and so launching Audi's zero-emission SUV at Masdar City was the perfect location.
The e-tron introduces a number of new connectivity services to Audi customers such as the ability to remotely add options to their e-tron after buying the car through the MyAudi app.
With the app, you will be able to unlock certain optional extras such as matrix beam lights, lane assist or the digital radio. What's more, you can purchase a feature for a month, a year or permanently.
It's not clear whether this will be offered on the e-tron in the Middle East yet, but the technology is now there with this new model and provides just one example of how electrification and autonomy is changing the way we interact with cars.
The e-tron is Audi's first entry into all-electric mobility and it's a sign of things to come with the company boasting that a third of its cars will be EVs by 2025.
The all-wheel-drive e-tron uses two asynchronous motors, one each at the front and rear axles to deliver 355hp and 561Nm of torque for a 200kph top speed and zero to 100kph in 6.5 seconds. Select boost mode and for eight seconds you get 402hp and 660Nm, which cuts the 100kph dash to 5.7 seconds.
To compensate for the water-cooled lithium-ion 95kWh battery, which weighs 700kg, bulk has been shifted in other areas so as not to affect the car's cornering ability. However, there's no escaping the fact that at 2,490kg, this is a heavy car.
With no engine under the hood, 60 litres of space has been opened up for the storage of charging cables and ancillary items up front while at the back there's 600 litres of cargo space and it has a towing capacity of 1,800kg.
A single-stage transmission sends nearly all power to the rear wheels unless it's at full tilt, then it's a 50:50 split.
Audi claims it will get 400 kilometres from a full charge, but as is often the case in the real world, we couldn't achieve this on our drive.
Our car showed 367 kilometres in the morning and finished at the lunch stop with 70 kilometres after covering around 230 kilometres. On a closed section of road, we saw the car's 200kmh top speed before driving through some heavy sand-covered gravel tracks and spent most of the day cruising at 140kph before blasting up the steep mountain climb that is the 12km, 60-corner Jebel Hafeet road.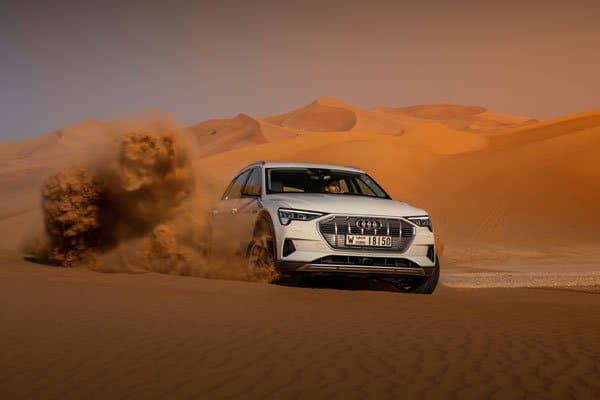 On the way back down we used Audi's regenerative braking to recover some energy for the batteries by coasting and brushing the brakes before trying the more aggressive regen paddle on the wheel which can bring the car to a complete stop from 130kph if needed.
At the bottom, we had recovered 11 kilometres, which equated to 3.2-kilowatt hours of free fuel before taking a leisurely 90-minute stop for lunch and a rapid charge, which returned it to 369km for the home run.
For home charging you will need a three-phase 11kW wall box from DEWA, which will fully charge the car in 8.5 hours. Plugging it into a regular AC slot at home could take up to several days as charging is restricted to 2.3kW or 3.6kW. Audi is promoting the use of DEWA fast chargers that are rolling out across the UAE and will give an 80 per cent top up in 15 minutes.
Inside, it's familiar territory for Audi owners and unlike the hype that surrounds some other electric cars and how different they try to look; the great thing about the e-tron is how normal it feels.
A slide button that rests under your thumb where the gear selector used to be invites you to thumb forward for reverse, back for drive with a separate button for park and it feels completely intuitive if you've used modern auto gear selectors.
What takes more time to acclimatise to, however, is the lack of door mirrors with cameras in their place. Reported to add 2.5km range thanks to the reduced drag, the small screens are mounted in the doors and it's hard to break an adult lifetime's habit of looking where the mirrors have always been. They work fine, though lack distance perspective and I would be reluctant to tick the EUR1,500 ($1,705) option for them in Europe.
These are the only features that differentiate the e-tron from a regular Audi. It uses the same virtual cockpit with a 10.1-inch LCD screen above and 8.8-inch screen below, haptic touch feedback, quad-zone climate-controlled AC and four USB ports.
Overall, the Audi e-tron is an impressive demonstration of packaging, performance, quality and comfort but it comes with a hefty price tag and the hope that a fast-charging infrastructure will be in place by the middle of next year.