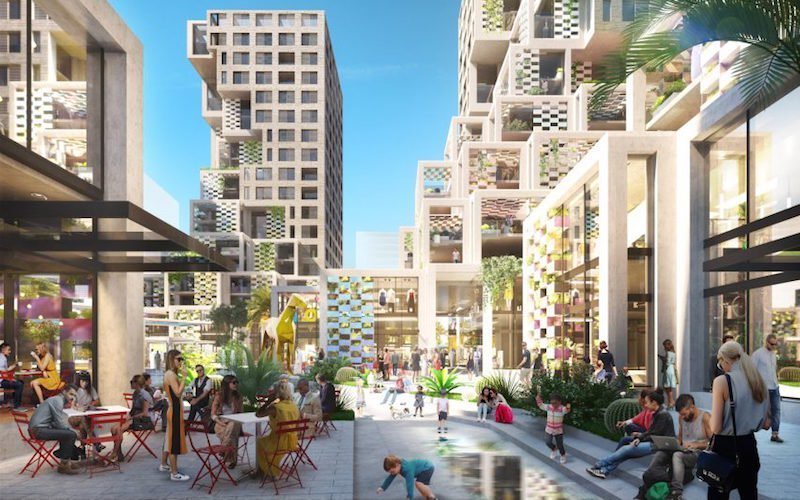 Completion of the project, which will feature seven towers, has been pushed back from Q4 2020 to Q4 2021
Abu Dhabi-based developer Imkan has appointed Chinese construction company CNTC as the main contractor for its Pixel project on Reem Island.
Work on Pixel, the Dhs2bn first phase of Imkan's mega mixed-use Makers District development will begin "immediately", a statement said.
Completion of the project, which will feature seven towers, has been pushed back from Q4 2020 to Q4 2021.
The overall development is making "scheduled progress towards its completion timeline of Q4 2020", a statement said.
Pixel, which caters to millennials, has been structured to surround a pedestrian plaza and will be made up of 525 residential units. Its towers will comprise of 26 amenities including homegrown F&B outlets, retail, interactive public areas, co-working spaces and creative hubs.
The wider Makers District is an 18-hectare waterfront development on Reem Island aimed at catering to entrepreneurs, artists, curators, artisans and SMEs.
It includes residential, hospitality, commercial and retail space and The Artery, a multi-use building with a parking garage.
Imkan awarded a Dhs120m ($32.6m) consultancy contract to Ramboll for the Dhs2bn ($544.5m) first phase in September 2017.
The developer carried out an official signing ceremony at IMKAN's head office, where ADCG CEO, H.E. Abubaker Seddiq Al Khoori, Dr Hamad Abdulqadir Al-Ali, Board member in Royal Strategic Partners LLC , IMKAN CEO Walid El-Hindi and Vice President of CNTC, Xinrong Xu took the all-important first step to make Pixel's seven towers come to life.
Imkan's CEO Walid El-Hindi said: "CNTC is one of the biggest construction companies in China, and their experience combined with our commitment to developing research-based communities, gives us confidence that Pixel's seven towers will be delivered utilising some of the most innovative and diverse construction solutions in the region.
"Abu Dhabi is a hub for global trade and the UAE is set to play a pivotal role in the China Belt and Road Initiative – already we see 60 per cent of China's exports passing through our ports and the pending addition of the Shanghai Stock Exchange to Abu Dhabi Global Markets (ADGM) also indicates how invested the two countries are in a shared future."
A wholly owned subsidiary of Abu Dhabi Capital Group, Imkan last year launched the Dhs15bn AlJurf project, a fully integrated second-home destination along Sahel Al Emarat, the riviera situated in Ghantoot between Abu Dhabi and Dubai.
It is also building the 46,000sqm Sheikha Fatima Park and the Nudra development of 37 villas on Saadiyat Island.